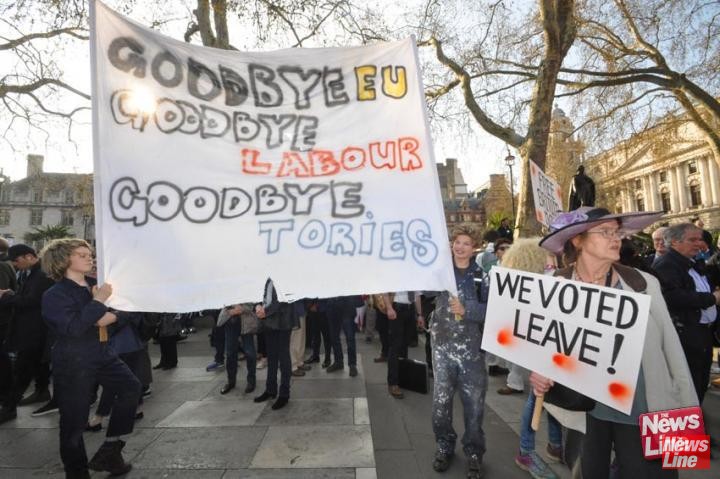 YESTERDAY, Shadow Chancellor John McDonnell accused PM May of having 'blown the confidentiality' over Labour support for her EU Withdrawal Agreement and demanded secret talks with the Tories.
Meanwhile, Brexit Party leader Farrage warned that 'if they push forward with this it will be seen as a coalition of politicians against the people and I think millions of people would give up on both Labour and the Conservatives.'
Appearing on the BBC's Andrew Marr Show, McDonnell was asked if he trusted May, to which he replied: 'No. Sorry. Not after this weekend when she has blown the confidentiality we had, and I actually think she has jeopardised the negotiation for her own personal protection.'
McDonnell said the talks have been undermined after an article was published in yesterday's Sunday Times saying May is planning to compromise with Labour on a customs union, goods alignment and workers' rights.
McDonnell attacked other senior Tories who are 'threatening to tear up any deal we do once the party has a new leader', adding: 'It is like trying to enter into a contract with a company going into administration.'
McDonnell said: 'The disappointing thing about this weekend is that we've maintained confidentiality because that's what we've been asked to do.
'We haven't briefed the media, we've only commented on when things are in the public view, so it's disappointing that the prime minister has broken faith, and I think it is an act of bad faith actually, to do it in this way.
'We're meeting again on Tuesday. David Liddington is chairing the meeting. There has been a real discipline in these discussions and in negotiations. What you try and do is establish a relationship and when you start undermining that relationship you undermine the confidence.'
Marr said: 'The way you talk about it is that this is an undoable deal.'
McDonnell was quick to rebut this, saying: 'I think we've entered into it in good faith and we'll go back into the talks. We're saying to them we think a deal could be done, but we want to try and bring the country back together.'
Marr said: 'How do you propose to do that?'
McDonnell replied: 'Let us try, let us try. I think we owe it to the country to try and that is what we are going to do.'
He then revealed that Labour is arguing for a second referendum.
He said: 'We've said to them time and time again, to get any deal over the line you've got to recognise that there is a large number of MPs in parliament who actually do support a public vote.'
Pressed on this, McDonnell said: 'We've said very, very clearly, we will go to a public vote to block any bad deal and we'll block a no deal as well.'
He went on: 'I think the Conservatives have to recognise, if a deal is to go through there are a large number of MPs who want a public vote. That's the reality of it. We've got to take that into account.'
Earlier, appearing on Sky's Sophy Ridge Show, Farrage was asked what the consequences would be if Theresa May and Jeremy Corbyn push forward a customs union.
Farrage replied: 'I think if they push forward with this it will be seen as a coalition of politicians against the people and I think millions of people would give up on both Labour and the Conservatives.'
He went on: 'This would be the final betrayal. If May signs up to this I can't see the point of the Conservative Party still existing.'
Farrage added: 'In the last three months there's been a remarkable shift in polling in this country, with leaving on WTO terms with no deal now by far the most popular option by far.'
He added: 'There are five million Labour voters out there who voted Leave.'