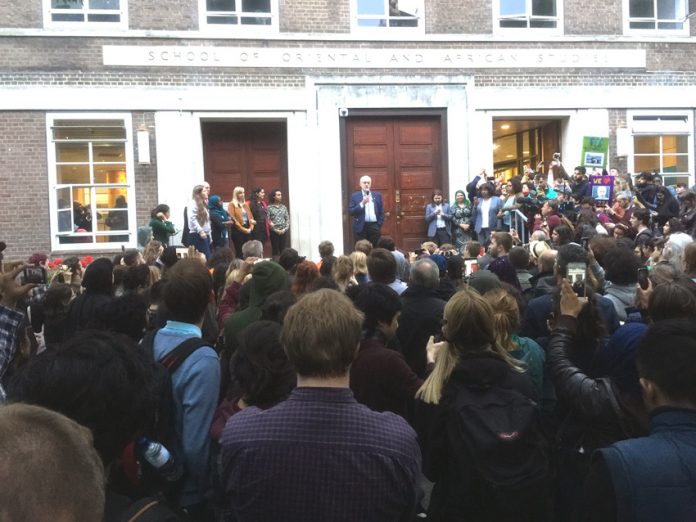 Unite leader Len McCluskey said yesterday that Labour Party leader Jeremy Corbyn has been the victim of a 'political lynching' orchestrated by 'sinister forces', but that the 'attempted coup' against him has 'already failed'.
Speaking on the BBC Andrew Marr Show, McCluskey called for trade union general secretaries to be invited to negotiate a 'peace' with the coup camp and urged MPs to 'desist' from a leadership challenge.
McCluskey said: 'The reality is that this has been a political lynching of a decent man, undermined, humilitated attacked, in order to push him out. And here's the truth, it has failed, the coup has failed.
'Jeremy Corbyn is made of stronger stuff, he's a man of steel and he's made it clear that he will not step down…
Marr claimed that there is 'total chaos' in the Labour Party, adding: 'It can't carry on can it?'
McCluskey agreed: 'It cannot carry on and let me just make this point, I hope this is an important point.
'The trade unions have always been the rock and the anchor that has kept the Labour ship steady in stormy seas, and what I'm saying is, because this coup has now failed, the trade unions can broker a peace with Jeremy as our leader and the genuine concerns of the PLP, we can bring people together.
'And I'm calling on Angela Eagle and Owen Smith and anybody else to desist from challenging.'
Marr interjected: 'What kind of deal could you offer them.'
McCluskey replied: 'Oh there's all kinds, we're professional negotiators, trust me, the general secretaries can step in…
'We would bring both parties together and resolve this issue. The alternative, if Angela goes ahead with this and I hope she doesn't, or Owen, is that we are pulled into a civil war that will be bitter and ugly, and may never allow the Labour Party to reunite again. Why would people want to do that?
'Give us a chance, give the trade unions, who have always been the solid block within our party, bring people together and we will resolve the issues.'
Writing in the Sunday Mirror, Corbyn said: 'I am ready to reach out to Labour MPs who didn't accept my election and oppose my leadership – and work with the whole party to provide the alternative the country needs.
'But they also need to respect the democracy of our party and the views of Labour's membership, which has increased by more than 60,000 in the past week alone.
'Our priority must be to mobilise this incredible force to oppose the Tories, and ensure people in Britain have a real political alternative.
'That is my priority and always will be as leader of our party.
'Those who want to challenge my leadership are free to do so in a democratic contest, in which I will be a candidate.'