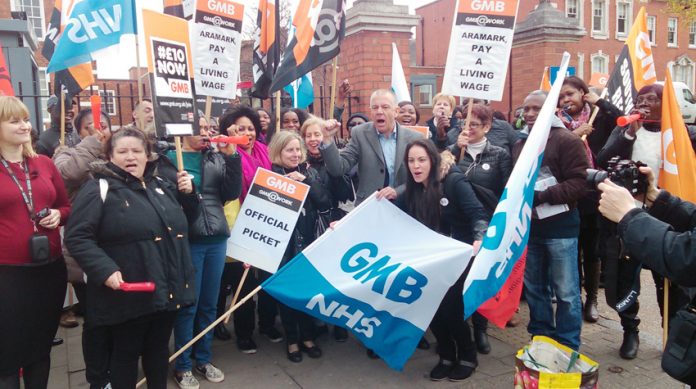 AS MANY as 200 cleaners and domestic workers at four south London hospitals took strike action yesterday demanding their wages are increased to £10 an hour.
The South London and Maudsley Hospital Trust outsourced the cleaners and domestic work to Aramark, who only pay their workforce just over £7 an hour. Aramark is a multinational company based in the US.
There were strong pickets out at all four hospitals: Lambeth, Maudsley, Bethlem and Lewisham hospitals. Prince Jatoe a domestic worker at Lambeth Hospital spoke to News Line on the picket line, he said: 'We want £10 an hour.
'We get just over £7 at the moment, and one person is doing two or three people's jobs. Also they only let us take two weeks holiday at a time, which is no good if you have far to travel. It's because they don't employ enough people.'
Strikers at the Maudsley Hospital were loudly chanting: 'Ten pounds an hour!' to the backing of whistles and vuvuzelas. Kieron Mew, GMB branch secretary of South London and Maudsley Hospital Trust, said: 'We are really pleased with the turnout and we will continue until we get our demands of £10 an hour, proper holidays and a complete end to zero hours contracts.'
Gloria Boateng, a worker at the Maudsley Hospital, said: 'Our strike is about payment. We want £10 an hour, we work in a mental hospital and it is hard work.'
Muna, a domestic worker at the Maudsley, said: 'Our children are coming home from school hungry, we want our tax credits back, the government are cutting everything and we are hungry. They want to pay us peanuts but we do all of the work.'
• Hospital workers at St George's Hospital in Tooting are demonstrating this Thursday between 12 and 2pm following sweeping cuts to cleaning and catering services which will put patient safety at risk, their union GMB said.
Kieron Merrett, GMB Regional Organiser, said: 'Sweeping cuts to cleaning and patient catering services will lead to a greater threat of infection and health problems for patients at St George's.'