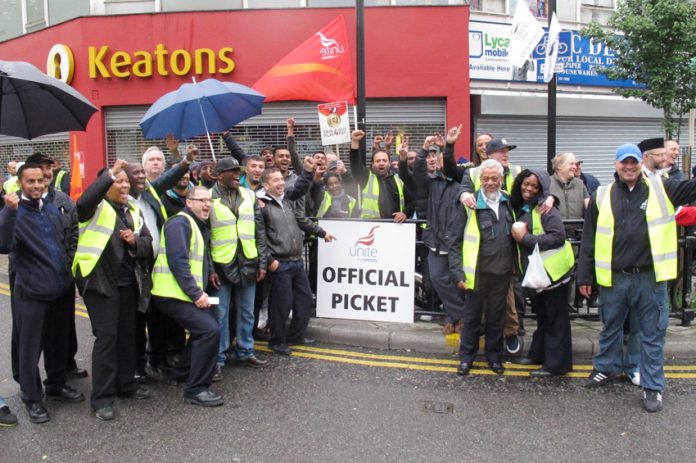 BUS workers' union Unite yesterday warned of further strike action as London bus workers in over 70 garages went on strike across the capital.
They took action over a refusal by bus operators and Transport for London (TfL) to award an Olympics payment.
The strike action was solid across 17 London bus operators, as Unite members mounted lively picket lines across the capital bringing buses to a standstill and causing widespread disruption.
At one such lively mass picket in Hackney, Unite branch chair Ozzie told News Line: 'We're here for a fair payment for all our members.
'We deserve £500 net and want the support of everyone. This is our first strike in 31 years.
'It's also a message to management to stop messing about with us.
'We haven't had a pay rise for the past two years. We're getting the same money we got in 2000.
'Enough is enough. This is the time we start fighting.
'We are at the bottom of the ladder on the Olympics bonus. We should be the same as everybody.
'We're sick and tired of this. This is supposed to be a democratic country, we need respect.
'Drivers have no respect. We are the frontline people with the public and we need recognition.'
At a very big picket line in Wood Green, Peter Skinner, Unite Communications Officer at Wood Green Garage, told News Line: 'We're really pleased with the turnout today – 90 per cent solid.
'Only school buses had to go out and a couple of non-union members. This is a nice friendly garage and we don't want it any other way.
'Ultimately we just want to be treated fairly. Every other transport worker has been given a bonus and (London mayor) Boris (Johnson), TfL and the bus companies refused even to come to the table.
'Boris has put up £8.3 million. If he had come to the table in the first place it would probably never have come to this.
'The government are not listening; they don't listen to the man on the street.
'I used to be very conservative but now I'm very disillusioned. We've had our pay cut and our hours increased for no extra pay.'
Unite pickets were out in force at First London's Westbourne Park garage yesterday morning.
A Unite spokesman at the garage stressed that their claim for a £500 Olympics bonus was for all bus workers.
He said: 'The £8.3 million offer that was made by Mayor Johnson has come from the same fund that all the other transport operators have been paid from.
'This offer was made only to drivers, not maintenance staff or supervisors, and would have been only £350 before tax.
'Also, our negotiators had only 36 hours to reach an agreement, when we have been trying for over six months to get negotiations with TfL.
'After today our £500 claim will increase to £600 because of wage losses to our members.
'London Underground workers' bonus is £850 and the Dockland Light railway are in line for £900.'
A Unite statement warned that further strike action would be bigger as the union vowed to appeal an 'anti-democratic' court injunction preventing bus workers in three other companies taking part in yesterday's action.
The statement continued: 'Bus workers are furious at TfL's and the bus operators' continued refusal to bring them in line with every other London transport worker and reward them for the massive increase in workload during the Olympics.
'The strike continues until 03:00 hours on Saturday 23 June.'
Unite London regional secretary Peter Kavanagh said: 'Today's strike comes as bus operators hide behind an anti-democratic court injunction and refuse to settle the dispute.
'We will fight to get the injunction overturned and further action will be bigger if TfL and the bus operators continue to bury their heads in the sand.
'The strike should be a wake-up call to the bus companies and TfL. They now need to negotiate meaningfully about rewarding bus workers for the massive increase in workload they will face over the Olympics.'
l The RMT union announced yesterday that staff working directly for Transport for London are to take strike action and action short of a strike 'over the total and abject failure of the organisation to offer any kind of meaningful recognition and reward for the huge increase in workload and pressure arising from the extended Olympics period and for attempting to impose changes to working conditions and a unilateral ban on annual leave in some departments.'
After an overwhelming vote for action RMT has called a 24-hour strike starting at 21.30 on Sunday 1st July 2012 and a work to rule and overtime ban from 19.00 on Sunday 8th July 2012 until 19.00 on Sunday 15th July.