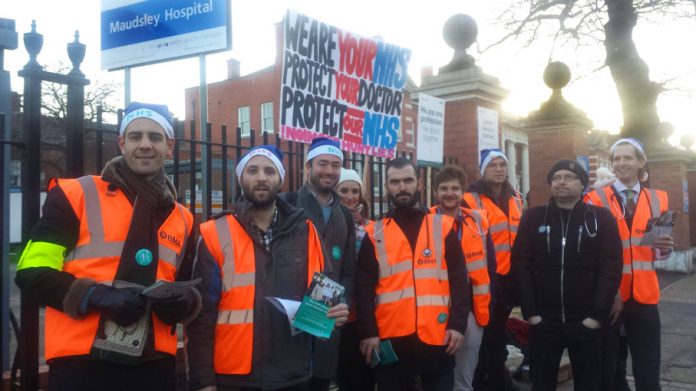 GMB officers are seeking permission for a strike ballot after pay talks broke down covering 175 GMB members employed as domestics and hostesses by private contractor Aramark at four sites of South London and Maudsley NHS Trust (SLAM).
The GMB is seeking a living wage of £10 per hour and an end to two-tier arrangements on sick pay and shift allowances for members at the Maudsley, Lambeth, Bethlem and Ladywell sites.
As well as GMB officers now seeking permission to proceed to an official strike ballot, the GMB will also be calling demonstrations outside the sites as part of the campaign for a living wage and an end to the two-tier workforce in the NHS.
The details of the protests so far agreed are as follows: from 2:30-3:30pm on the 2nd February, and from 2-3pm on the 9th February, outside the Bethlem Royal Hospital, Monks Orchard Road, Beckenham BR3 3BX.
Aramark is an American owned multinational outsourcing provider turning over $13 billion. It pays many staff on the SLAM contract as little as £7:30ph for providing front line services to mental health patients.
Nadine Houghton, GMB regional organiser said: 'It's unfortunate that we have been forced to ask our members whether or not they are prepared to strike. But we have consistently told Aramark that our members provide a front line service in a mental health trust within London and as such they deserve to be paid a genuine living wage of £10 per hour, full sick pay and proper shift allowances.
'Our members are working around many vulnerable individuals, sometimes they are verbally and even physically attacked and yet many of them are unable to take sick leave as they are not paid for this.
'Some of them also receive no extra pay for working weekends and bank holidays. They have rejected the offer that Aramark made to them as it went nowhere near satisfying the members' demands.
'GMB will continue to press for a living wage to be set at £10 per hour as agreed at GMB Congress. Members make clear in their experience you need at least £10 an hour and a full working week to have a decent life free from benefits and tax credits.
'Less than £10 an hour means just existing not living. It means a life of isolation, unable to socialise. It means a life of constant anxiety over paying bills and of borrowing from friends, family and pay-day loan sharks just to make ends meet.'