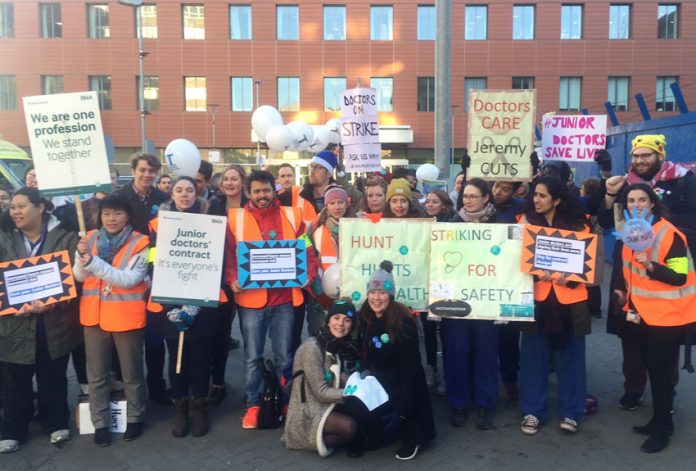 THE BMA has suspended next week's 48-hour junior doctors strike.
In a statement, the BMA said: 'The decision comes as ACAS talks continue this week between the BMA and the government on the junior doctor contract.' Commenting on the decision to suspend industrial action, BMA junior doctor committee chair Dr Johann Malawana said: 'The BMA's aim has always been to deliver a safe, fair junior doctor contract through negotiated agreement.
'Following junior doctors' clear message to the government during last week's action, our focus is now on building on early progress made in the current set of talks. 'On this basis, the BMA has today taken the decision to suspend the industrial action planned for 26-28 January, thereby giving Trusts as much notice as possible so as to avoid disruption to patients.
'It is important to be clear, however, that differences still exist between the BMA and the government on key areas, including the protection of patient safety and doctors' working lives, and the recognition of unsocial hours. Significant, concrete progress will need to be made if future action, currently planned for 10 February, is to be averted.'
BMA member and medical student Cam Stocks told News Line: 'The BMA is choosing to take a soft line with the government. We know that the government is not interested in compromises and that this is just the latest attack in a long run in cuts to the NHS. Now is the time for all NHS staff to unite against the government in defence of our rights to health.
"Momentum was building with the doctors, and the public were getting on our side more and more. With the nurses' bursaries fight it was starting to become a much broader fightback against the government. Calling off the strike at this time could potentially defuse all of that and take us back to a place of reactive subservience.'