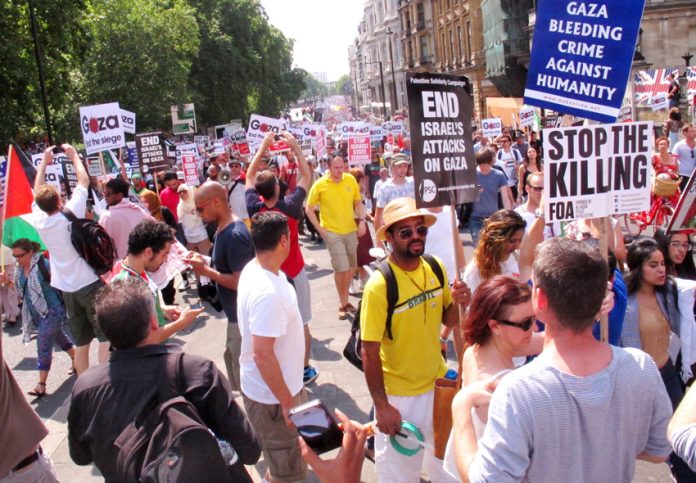 INTENSE clashes erupted yesterday morning between Israeli forces and Palestinian militants in the southeastern Gaza Strip amid confirmed reports that an Israeli soldier has been captured.
The clashes came after Israeli forces had shelled Gaza multiple times since the commencement of a ceasefire, killing four Palestinians.
Before the ceasefire came into effect at 8.00am, Israel had already killed 16 Palestinians in strikes and shelling since midnight. At least 40 Palestinians were killed in the Gaza strip on Friday, hospital officials said.
A 72-hour, UN-brokered ceasefire between Israel and Hamas, the latest attempt to de-escalate the three-week hostilities in Gaza, has now collapsed.
Soon after the ceasefire started at 8.00am local time (05.00 GMT), an Israeli tank opened fire in the south of the Gaza Strip, the Gaza Interior Ministry said.
According to local Gaza media, four Palestinians were killed and 20 others were injured in the attack. Three other Palestinians were reportedly shot by IDF snipers. Israel insisted that the IDF was only responding to Hamas attacks.
Earlier on Thursday, before the ceasefire began, Israeli Prime Minister Binyamin Netanyahu announced that the IDF will complete the destruction of Hamas, no matter what.
He said: 'We are determined to complete this mission with or without a ceasefire. I won't agree to any proposal that will not enable the Israeli military to complete this important task for the sake of Israel's security.'
After 24 days of the IDF's mission, according to the Palestinian Ministry of Health, the new death toll stands at 1,437 people. On Thursday, 79 Palestinians were killed and 350 injured, health ministry spokesman al-Qidra said in a statement. The toll of those injured now stands at 8,265 people.
Hamas has called for huge demonstrations throughout the West Bank and for Palestinians to participate in a 'Day of Anger' in solidarity with the people of the besieged Gaza Strip.
Hamas called upon Palestinians to take part in a march of 100,000 in Hebron city, which will set off from in front of al-Hussein mosque heading to Shuhada Street.
A march will set off from al-Jadid mosque in Tulkarem and from al-Haj Maazuz al-Masri mosque in Nablus.