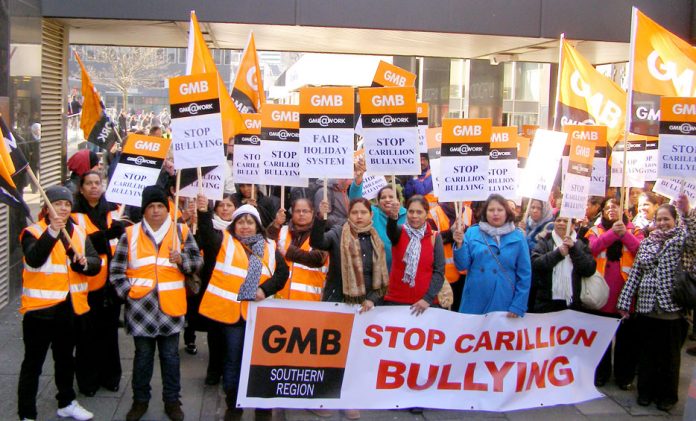 'ONCE AGAIN, we see the reality of bandit capitalism and its toxic impact on our public services,' Transport union RMT said yesterday, calling for all Interserve contracts to be taken back in-house as shares in the outsourcing giant nosedived, collapsing by as much as 70%.
And the union Unite, which has 1,200 members in Interserve, warned that the outsourcing giant has become 'Carillion Mark Two'. The privateer, which works in prisons, schools, hospitals and on the roads, has £500m of debts and says 'its rescue plan will involve issuing new shares'.
As stock markets opened yesterday morning its shares began to plummet. They then fell to 6.5p, down 70% from Friday's level. The shares were worth 100p a year ago. RMT General Secretary Mick Cash said: 'Interserve hold a number of contracts in our industry, including major station facilities management work on Network Rail in the south, and both passengers and staff alike are left guessing this morning as the company lurches from crisis to crisis. That is no way to run our transport services.
'RMT is calling for immediate action to begin transferring the Interserve transport sector contracts in-house to avoid a repeat of the Carillion chaos. 'Once again, we see the reality of bandit capitalism and its toxic impact on our public services. The time has come to end this obsession with the private sector speculators and return to the principles of public services run and owned by the public, free from this corrosive nonsense.'
Kevin Brandstatter, GMB National Officer, said: 'Neither industry, government, local government nor the NHS have learned anything from the collapse of Carillion nearly a year ago. 'GMB calls on the government to bring all contracts in-house and use the money saved to improve public services.'
Unite assistant general secretary Gail Cartmail said: 'The financial difficulties that Interserve finds itself in is another dire warning of the dangers of outsourcing public services for private profit. We could be facing Carillion Mark Two.'