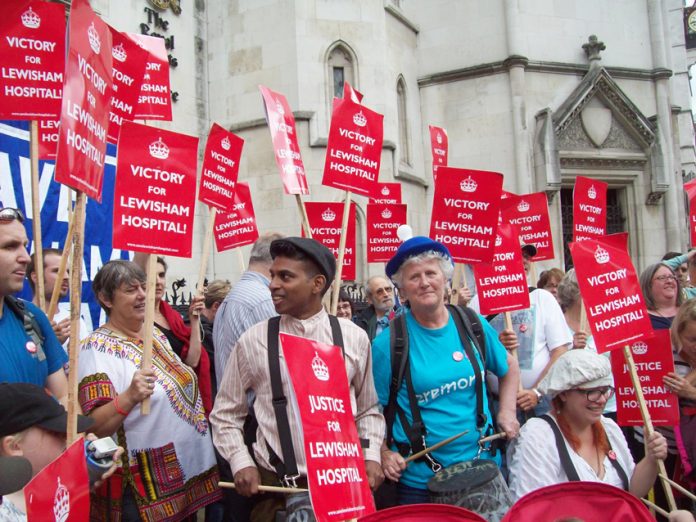 THE Court of Appeal yesterday upheld the decision of a Judicial Review not to proceed with the reconfiguration of Lewisham hospital, meaning that the A&E and Maternity services will remain open.
Lewisham Council and Save Lewisham Hospital Campaign took Jeremy Hunt, Secretary of State for Health and Matthew Kershaw, Trust Special Administrator (TSA) to Judicial Review in defence of Lewisham Hospital on July 31, which they won.
However three weeks later on August 21, the government appealed the decision of the Judicial Review, and that appeal was thrown out of court yesterday.
Jos Bell from the Save Lewisham Hospital Campaign said: 'Today's result is the second time that the government have been found to be acting outside of the law.
'After just five minutes of deliberation, the Court of Appeal, which is a very high court, threw out the government's appeal where the Secretary of State, Jeremy Hunt and his special advisor, maintain that they were lawful in including Lewisham in their reconfiguration plans for South East London.
'The Court of Appeal upheld that these plans were only to be implemented in the SoHealth Trust which Lewisham is not part of.
'They have however reserved judgement for further deliberation on the consultation aspect of the appeal.
'There were two aspects to the appeal that the government were acting.
'Firstly whether the configuration plans applied to Lewisham and secondly whether the views of the GP's and the local population had been properly taken into account.
'The government say that they were, we say that they were not.
'That aspect of the appeal is something that the Court of Appeal is reserving judgement on until the end of the consultation process.'
Tony O'Sullivan, from the Save Lewisham Hospital campaign, said: 'We are not surprised that Hunt's team has tabled an amendment to the new Care Bill to give himself the two crucial powers he lost the Judicial Review on. The amendment went through the House of Lords on 22 October.
'They are intending to accelerate its passage in the House of Commons.
'It allows a TSA in future to go into a trust in crisis and make decisions about any other trust the TSA sees fit.
'So how about that for a short lesson in democracy?'