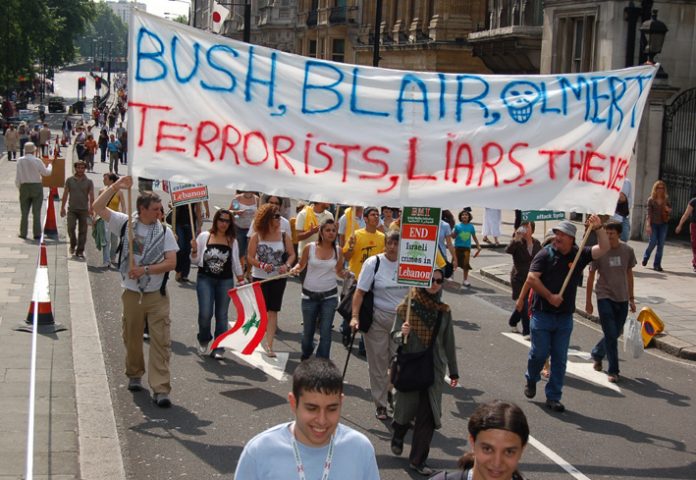 Hezbollah said its fighters killed or wounded 15 Israeli soldiers trying to advance towards the border village of Aita al-Shaab yesterday morning, as fighting continued in towns and villages along the Lebanese border with Israel.
A Hezbollah statement added: 'The remaining soldiers retreated under the cover of artillery shelling.'
Hezbollah said its men also inflicted casualties on Israeli forces and destroyed a number of tanks in the village of Rachaf, about 14km from the Israeli border.
Israeli warplanes struck the southern suburbs of Beirut while diplomatic efforts to end the month-old Israel-Hezbollah war intensified with a surprise visit from the US Middle East envoy.
Israeli fighter-bombers carried out twelve attacks on Beirut's near-deserted southern suburbs at dawn yesterday.
At least twenty explosions reverberated from the suburb of Dahiyeh, a Hezbollah stronghold already devastated from previous Israeli attacks.
Israeli warplanes also staged seven air strikes near al-Najariya in al-Zahrani district in southern Lebanon.
The raids brought down three buildings at a major crossroads, blocking all traffic on the area's main thoroughfare, Hadi Nasrallah, named after the slain son of Hezbollah leader Hassan Nasrallah.
Another raid caused the collapse of a second building that also blocked the old route to the airport.
Elsewhere, one person was killed in an Israeli air strike on a vehicle in Muqnah town in north Bekkaa.
Israel also struck an area close to the Syrian/Lebanese border crossing at Masnaa in the Bekkaa Valley, about 50km southeast of Beirut.
Hezbollah fighters resumed their rocket attacks on Israel, hitting the northern port city of Haifa and several locations in western Galilee.