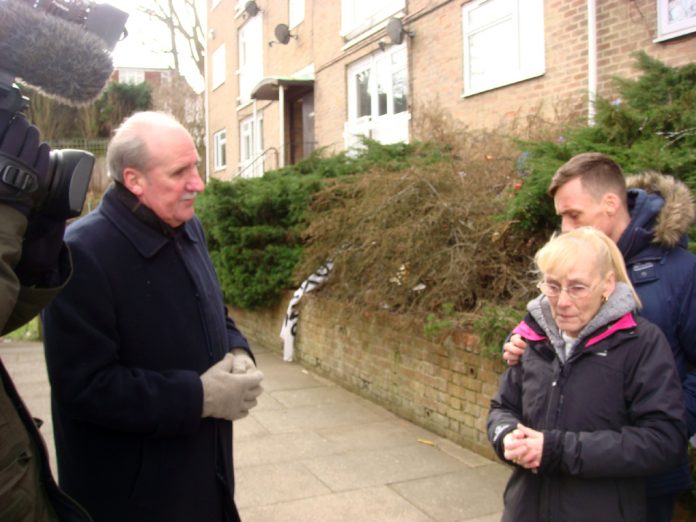 FURIOUS tenants remaining at Connaught House in Muswell Hill vented their anger at bailiffs yesterday at 12 noon as evictions took place of families, driving them out of their homes and smashing up their community.
The tenants confronted Nick Wood of Crown Properties and his supervising agent, Julie Beech, who directed bailiffs with mallets into people's homes.
To cries of 'You should be ashamed' and 'You didn't know the newspapers and the TV would be here!', Wood told tenants that their homes of up to 20 years had only been on temporary contracts!
Joan Elsby, who has had a legal reprieve for the moment, was out to face Wood down. She told News Line: 'This has made me ill. There was no need for this to happen like this. We have our human rights.
'My son has not been able to go to work because I am so frightened.
'Julie Beech was laughing at us when we rang her. She has no sensitivity. There will be just five families left after today.'
One of the tenants evicted yesterday, Eve, said: 'I've got nowhere to live as of this moment. My stuff is in storage in Edmonton. I am officially homeless. I have to go to Haringey Council Apex House and find out where I and my two children, aged 12 and 14, are going to be sleeping tonight.'
Peter Moore, a teenager who lives at Connaught House with his mother Tracey, said: 'I think this is disgusting. All my friends have left and my mum and I have nowhere to go. We're on the list for eviction in April.
'The Crown estate and the Metropolitan Police are knobheads. The only people that have helped us are the squatters and general people.'
Haringey Council has told families that they cannot be helped with accommodation unless they are actually homeless, meaning they have to be physically evicted before they can even apply.
As the evictions took place, tenants made it difficult for bailiffs by pouring oil down the stairwells and obstructing the bailiff leaders.
After it was over, the evicted families drove off to the Council, many in tears after the brutal experience.