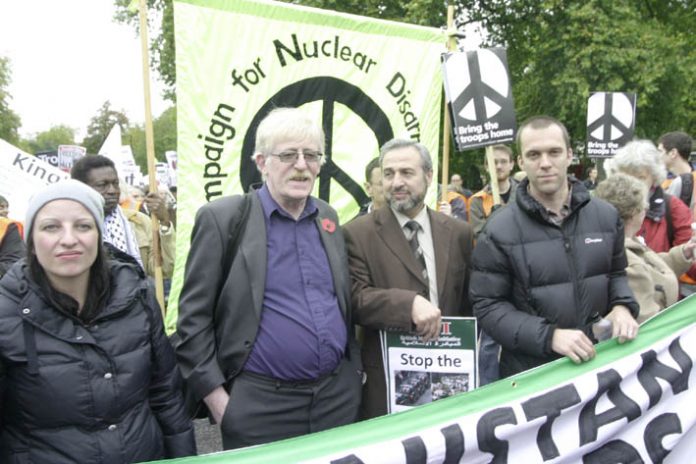 Corporal Joe Glenton, the soldier who faces desertion charges for refusing to return to Afghanistan, has been arrested, imprisoned and charged with five further offences for speaking out in opposition to the presence of troops in Afghanistan.
These charges allege that he led the anti-war demonstration in London on October 24 and that he has spoken to the press in defiance of orders.
The new charges carry a maximum of ten years imprisonment in addition to the sentence of three to four years that Joe could get if the desertion charge is upheld.
His mother, Sue Glenton has spoken out against the arrest of her son.
She said: 'You've got government ministers, army commanders and MPs speaking every day in support of the war.
'What's so scary about a Lance Corporal having his say? My son is only speaking out for what he thinks is right.'
The Stop the War Coalition has launched a campaign to defend Lance Corporal Glenton and his right to freedom of speech, and has called a protest outside the Ministry of Defence, Whitehall (opposite Downing St) at 5pm today.
Stop the War Convenor Lindsey German said: 'This is not about breach of military regulations.
'In the last few days a range of military personnel have been speaking in the media in defence of this appalling war.
'I doubt any of them have been arrested.
'This is about the persecution of a soldier who believes in telling the truth in accordance with his conscience.
'He is saying what the majority of the population believe – this war is unwinnable and immoral.
'The anti-war movement will be doing everything possible to get Joe released.'
Stop the War added: 'The arrest of Lance Corporal Glenton and his imprisonment is a sign of panic by the government and military commanders, faced with an ever growing majority of the British public opposing the war and an increasing number of prominent voices in the media calling for the withdrawal of British troops.'
• Second news story
CLOSURE SPECIALIST REILLY GETS GM JOB
Yesterday General Motors (GM) announced that Nick Reilly, its executive vice-president and president of its international operations, would immediately take charge of its European operations.
He will lead the division until a new chief executive is appointed.
Reilly, who oversaw the closure of the Vauxhall plant in Luton in 2001 will be in charge of GM Europe restructuring.
GM president and CEO Fritz Henderson said: 'With his deep experience with the Opel and Vauxhall brands, Nick is well suited to lead this transition and to work toward the earliest possible normalisation of the business.'
In 1990, he was appointed director of manufacturing at Vauxhall's Ellesmere Port plant.
After a spell in Switzerland, where he was in charge of GM Europe strategy, he returned to the UK in 1996 as chairman and managing director of Vauxhall and, in 1997, was named a GM vice-president.
Analysts said that GM will likely use Reilly as the proverbial 'bad cop' to come in and extract concessions from the union leaders, only to turn the helm over to a new CEO after cuts are made.
Reacting to the news, Opel works council leader Klaus Franz called on GM managers to turn Opel into a separately floated company.
'Then we'll see how serious they are about Opel's autonomy,' he said.
The German unions fear around 8,000 job losses in Germany and a further 2,500 at Opel's Belgian plant.
GM bosses are currently in Europe for discussions with the UK and German governments and union leaders as to what subsidies they require and concerning the 'restructuring in earnest' that is to take place.