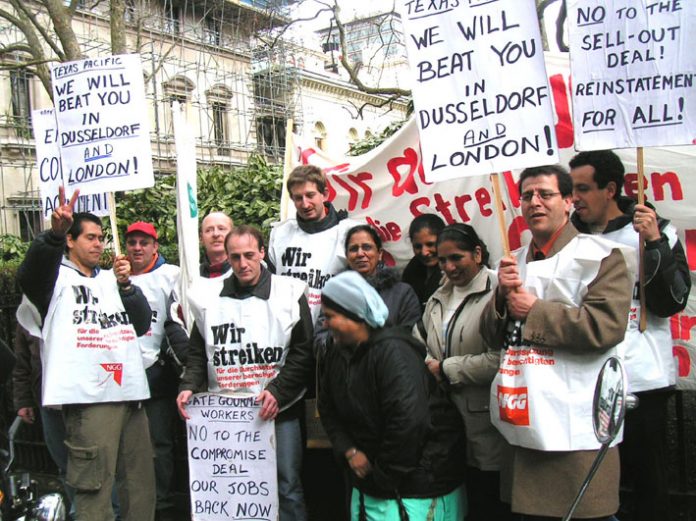 GATE Gourmet locked-out workers, at Heathrow Airport, are welcoming Gate Gourmet striking workers, from Dusseldorf Airport in Germany, to London today.
The British Gate Gourmet workers got great support while out campaigning yesterday.
At Southall Fire Station FBU branch secretary Jack Jackiewicz donated £10 to their dispute fund saying: 'You have all my goodwill. You have suffered a terrible injustice. It's been a long and hard fight, but I'm sure you are close to victory.'
At Greenford Bus Garage, TGWU member Noor Ali said: 'I will come on your march. What is happening is not fair. You have worked so many years for these people and now they are trying to make you aliens.
'This is a taste of the future, the Gate Gourmet workers must win, you mustn't give up.'
At Greenford Royal Mail sorting office CWU member P Hall said: 'Of course we will support you and you must support us.
'In a few weeks, we are going to have to defend our jobs too.'
Fellow postal worker Deven Shah said: 'This is a very bad situation. Innocent workers sacked for no reason. I will come on your march on Saturday.'
CWU branch officer Geoff Loftus said: 'The Gate Gourmet workers must be supported. What the union leadership is doing is not on. The TGWU and the CWU have to have leaders who will defend every job.'
Gate Gourmet locked-out worker Gurdish Sidhu told News Line: 'We have had good support today and are very much looking forward to meeting our brothers and sisters from Germany.'
• Saturday's march assembles at 1.00 pm at Sidmouth Avenue, Isleworth