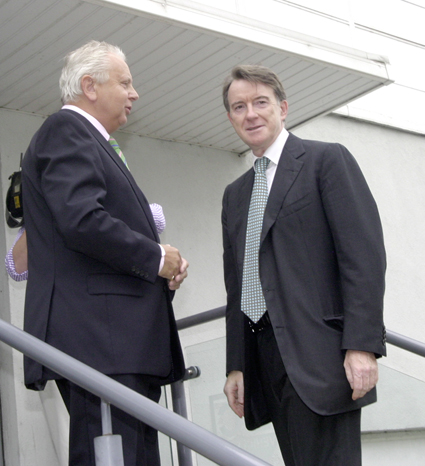 GAS for industry and grit for the roads were being rationed yesterday as British industry began to shut down.
Vauxhall, Ellesmere Port, Jaguar Land Rover, Solihull, and British Sugar refineries at Bury St Edmunds and Newark were among over 30 factories in the UK to be told to switch from gas to alternative sources of fuel yesterday.
At the same time Lord Adonis the Transport Minister announced that Local Authorities must cut the gritting of roads by 25 per cent up till next Tuesday.
The National Grid told suppliers to invoke their interruptible contracts, after telling them to stop gas supplies to 95 industrial customers on Thursday as it issued Gas Balancing Alerts, and started gas rationing for the second time in its history.
A Vauxhall spokseman said the auto maker had fallen back to using its back-up oil supply since Tuesday to power Ellesmere Port.
Under interruptable contracts, firms get gas at cheaper prices but agree to have the supply cut off in the event of gas supply shortages.
A National Grid spokeswoman told News Line yesterday that supply was halted at fifteen companies in the North West and 12 in the East Midlands.
She confirmed that there is 'eight days gas in storage facilities'.
She said: 'We only use storage facilities in peak times.'
Scotia Gas Networks said 'half a dozen' industry customers were affected 'scattered across Scotland'.
The National Grid said yesterday: 'Record gas demand – 460mcm – has again been forecasted for today but supplies remain robust.'
National Grid Director of Network Strategy, Jeremy Bending sought to maintain: 'This is not about a lack of gas or a lack of investment in infrastructure or rationing.
'This is a commercial decision by companies to benefit from discounted prices in exchange for being flexible when demand is at its highest.'
Director general of the Institution of Civil Engineers Tom Foulkes said: 'We depend heavily on international markets and as the last few days have shown, they are not reliable and will end up costing us dearly.
'The UK has the largest demand for gas in Europe but we have very little storage capacity in comparison.
'It makes sense commercially and for ongoing security of supply to focus on urgently addressing this.'
Energy Minister Ed Miliband claimed UK gas supplies are secure despite the continuing gas wrangle between Russia and Ukraine reducing supply to Europe.
But he admitted that the longer the dispute lasted, the greater the risk that prices would continue to rise.
• Output price 'factory gate' annual inflation for all manufactured products rose by a faster-than-expected 3.5 per cent in December, according to the Office for National Statistics.
Input price annual inflation rose 6.9 per cent in December compared to a rise of 4.0 per cent in November.
The ONS added: 'Month on month the output prices measure for all manufactured products rose 0.5 per cent in December, mainly reflecting price rises in other manufactured products, transport equipment, food and electrical products.'