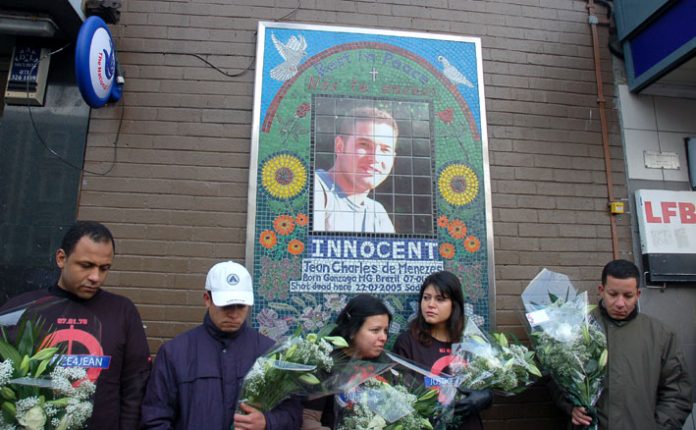 'TO THIS day, not a single police officer has been punished for the deliberate shooting of an innocent man and the cover up that followed.
'This is a public scandal and this memorial stands testament to that,' Vivian Figueiredo, cousin of Jean Charles de Menezes, said yesterday.
She was unveiling a permanent memorial to the innocent Brazilian man outside Stockwell tube station, where he was shot dead by armed police, who held him down and fired seven bullets into his head on July 22, 2005.
Vivian told the crowd of reporters and well-wishers, including an official delegation of Brazilian diplomats: 'Today would have been Jean's 32nd birthday.
'But instead of celebrating with him with drinks and samba music, we gather here today to remember how he died and the injustice that followed.'
She continued: 'I remember the first day I came to stand outside this station.
'It was Sunday July 24, 2005. Dozens of people from the local community had come to light candles and lay flowers to honour Jean.
'That was the first day the shrine here began. I never could have imagined back then how difficult the years to come would be or that the shrine would be kept by the local community.
'As we took down the old shrine here on Tuesday night, many local people approached us to try and stop us and ask why we were touching it.
'When we explained who we were and why we were taking it down, each time people were happy to have a permanent memorial in its place.
'The public support is what gives us strength.'
She said: 'Jean's mother and father couldn't be here today but they wanted me to say on their behalf that they hope generations to come will remember Jean Charles through this memorial and it will act as a public reminder that police officers should not be above the law.
'Jean Charles was not the first person to be killed unjustly by the police and he won't be the last.
'But we hope that through our campaign, we have raised awareness of the importance of police accountability.'
Valter Moreira, Brazil's Consul-General, said he was attending the unveiling because what had happened 'was something that moved everybody in Brazil'.
Many of Jean Charles' relatives as well as members of the Justice 4 Jean campaign were at the unveiling of the memorial.
Another cousin, Alex Pereira, said it was 'unbelievable' that police commander Cressida Dick – who was in charge of the operation that resulted in the killing of Jean Charles – has been given the Queen's Police Medal for distinguished service.
Her career has flourished since his brutal death: she is now Assistant Commissioner of the Metropolitan Police.
Alex said: 'If the truth had not come out, all of them would have got medals and they would have been "the people who stopped the bomber''.
'What I have realised over the past four and a half years is that the law here is only for a very few people and that we are not alone, that the police have shot other people and no one has been brought to justice.
'The law is very, very weak.'
Alessandro Pereira thanked everybody who had attended the ceremony and 'the people of London' for their support for the family in their struggle for justice.
'It is important people remember. It is good, people who stop here can remember him, so they don't forget,' he said.