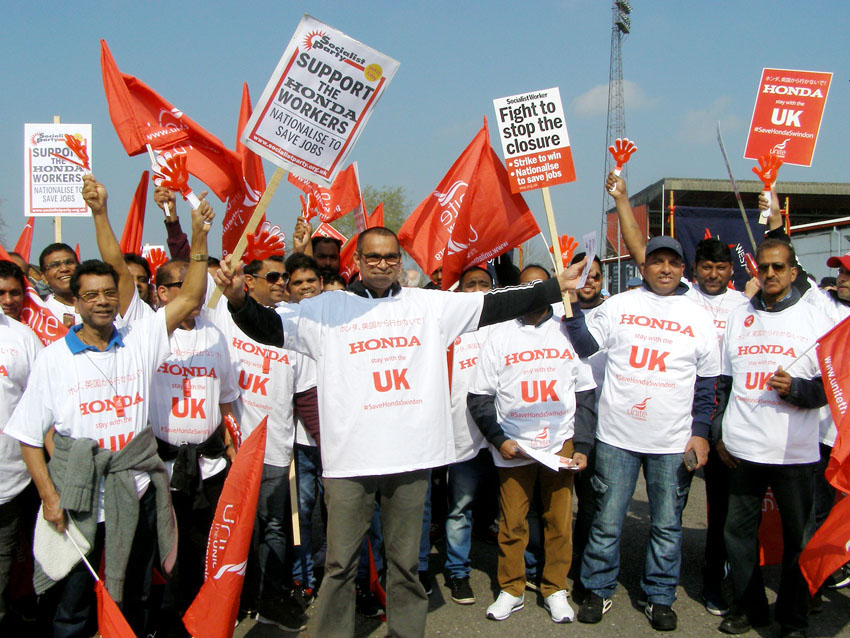 'WE'RE HUGELY shocked by today's announcement. It's a real hammer blow for the Welsh economy and the community in Bridgend,' GMB's Regional Organiser Jeff Beck said after the announcement yesterday that the Ford's engine plant in Bridgend is set to close in autumn 2020, with the loss of 1,700 jobs.
GMB warned that almost half a million manufacturing jobs have been lost in the last ten years.
'These shocking statistics,' the GMB said, 'are being released ahead of GMB's Annual Congress, which begins in Brighton this Sunday. They show 476,500 jobs in the sector disappeared between 2008 and 2018, a massive fall of 14%.'
In May the bosses of the Honda car factory in Swindon announced that they are pressing ahead with the closure of its plant there by 2021 putting the livelihoods of over 15,000 direct Honda employees, and the livelihoods of many thousands of workers in the supply chain under immediately threat.
GMB's Beck continued: 'Famous old ceramics firms in the Potteries, Appledore shipyard, large swathes of our steel industry, jobs at the Ford plant at Bridgend – all have fallen by the wayside.'
Unite leader Len McClusky branded Ford's decision to close its Bridgend engine plant a 'grotesque act of economic betrayal'.
McCluskey said: 'These workers and this community have stayed faithful to Ford, as have UK customers – this is still Ford's largest European market – through thick and thin, but have been treated disgracefully in return by this company.
'Ford broke promise after promise to the UK. First, it was that it would build 500,000 engines at Bridgend. That fell to a quarter of a million, then fell again and again to now just 80,000. The company has deliberately run down its UK operations so that now not a single Ford vehicle – car or van – is made in the UK.
'Ford has treated its UK workers abysmally, and the company can do so because the fact remains that it is cheaper, easier and quicker to sack our workers than those in our competitor countries.
'But Ford can forget about it if it thinks we will make it easy for Ford to walk away from this workforce. We will resist this closure with all our might, and call upon the governments at the Welsh Assembly and Westminster to join us to save this plant, and to prevent yet another grave injury to UK manufacturing.'