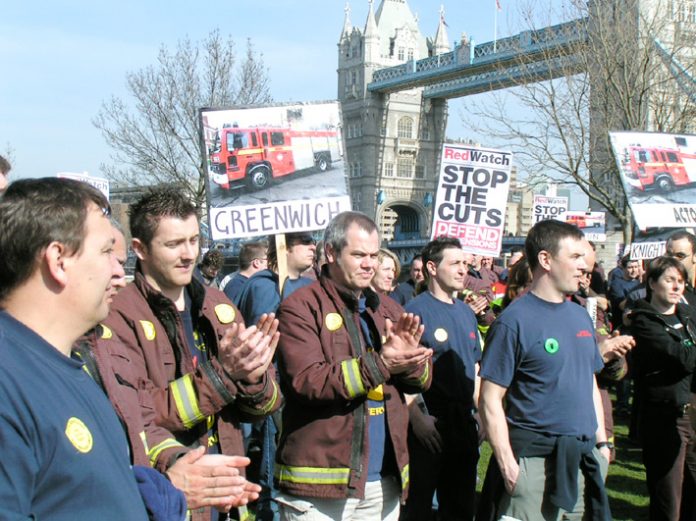 Firefighters from every station in Hertfordshire are joining a national rally and lobby of Parliament in Westminster on Wednesday, 12 November.
They are urging politicians to take action following research which has found a growing number of firefighter fatalities.
Eight firefighters were killed in 2007, the worst figure in 30 years.
Twenty-two died on duty between 2003 and 2007.
The research highlights the need for much more safety-critical training and the return of safety critical national guidance from national government to support fire authorities.
The guidance was needed to ensure all fire authorities could protect firefighters better by learning the lessons of previous tragedies.
Hertfordshire firefighters are calling for an end to budget cuts and more money to ensure the provision of a well equipped and trained fire and rescue service for the county.
Herts Fire Brigades Union (FBU) secretary Tony Smith said: 'Firefighter deaths have gone up sharply in recent years, three of them in our county.
'We all know that this is a dangerous job, which deals with hazardous situations, but the lessons of previous tragedies must be learned if they are not to be repeated.
'Firefighters are the professionals.
'The government needs to listen to us, and reinforce safety standards; we have to get the government to act.'
Hertfordshire Fire & Rescue Service has experienced a raft of budget cuts over several years culminating in the closure of Radlett and Bovingdon fire stations.
Twelve frontline firefighter posts were lost from Hemel Hempstead, Watford and St Albans in 2005 – the same year that two Stevenage firefighters lost their lives at a high rise fire.
Lack of funding has led to budget shortfalls and the inevitable reduction in the service provided by local firefighters.
Notably, financial cuts have led to:
• Delays in making improvements highlighted in Government audits.
• Funding unavailable to address issues highlighted in Coroners' reports.
• Lack of personnel to conduct risk assessments in the community.
• Cancellation of essential training courses for firefighters.
• Outsourcing of contracts for the supply of vital safety equipment.
Smith said: 'Put simply, if there is not enough money then there is not enough training; not enough risk assessment; not enough frontline firefighters.
'Politicians have to realise that this is an essential service and it must be adequately funded.'
The FBU has commissioned a report to identify the ways to improve firefighters' safety.