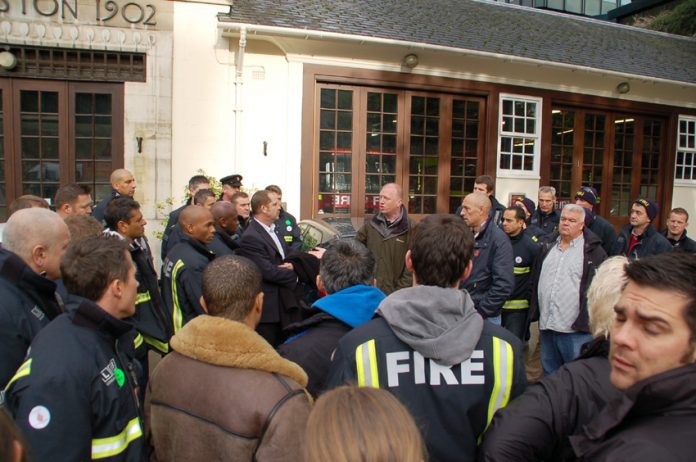 FBU General Secretary Matt Wrack has announced further London-wide strike action.
The strike, which will take place from 10.00am on November 5th to 9.00am on November 7th, incorporates Bonfire Night – the fire service's busiest period.
Wrack said: 'We do not want to take this action but we have no choice.
'The alternative is to allow London's firefighters to become doormats for their employers to walk on.
'There's still nearly two weeks for the London Fire Brigade to get this right.
'Show a little respect for your firefighters. Meet their representatives and hammer out a compromise with us, instead of trying to get your way by bullying.'
In a circular to members, he confirmed the eight hour strike from 10.00am to 6.00pm on November 1st and that industrial action short of strike action will continue between strikes.
On Monday, Wrack categorically denied accusations made on television about the firefighters' picketing of the private contractor brought in to do their work on Saturday.
Wrack said: 'These wild accusations about vandalism and the like are falsehoods aimed at discrediting London's dedicated firefighters.
'Fire commissioner Ron Dobson owes the men and women under his command an apology.
'We gave strict instructions that there was to be peaceful picketing of the private contractor only, whatever provocation was offered.
'There was plenty of provocation, but our members behaved in a disciplined and orderly way, and I am proud of them.
'All our members had sacking notices from the LFB. The private contractor employed people to do our work who had been given just a few days' training in firefighting.
'Some of the people employed by the private contractor were very aggressive towards our members, and in at least one instance, in Lambeth, they approached them and threatened violence, saying they were "doormen from Manchester who have come to London to sort you out".
'On other occasions they made threatening comments and gestures towards firefighters.'
Wrack added: 'There has been no intimidation, harassment or violence by our members.
'A police superintendant confirmed to me that they have had no reports of trouble. We have made sure there will be no violence – we have close liaison with the police, including discussions with them before and during the strike, and including an FBU official in the police control room for a time to help ensure there was no problem.
'Far from our members chasing the LFB's 27 fire engines about the capital, we are far from convinced that there are 27 fire engines.
'No one has seen them. Our information, from inside Brigade headquarters, suggests there are actually only 11. The London Fire Brigade is trying to divert attention from their own failures by inventing these stories.
'On several occasions during the day our members intervened to tackle an incident because the private contractors were inadequately trained to use the equipment they had been given.
'What has really happened is that the London Fire Brigade plans for fire cover have been a waste of time and money because of poor training and inadequate planning. They wasted £12 million of public money on these plans.'