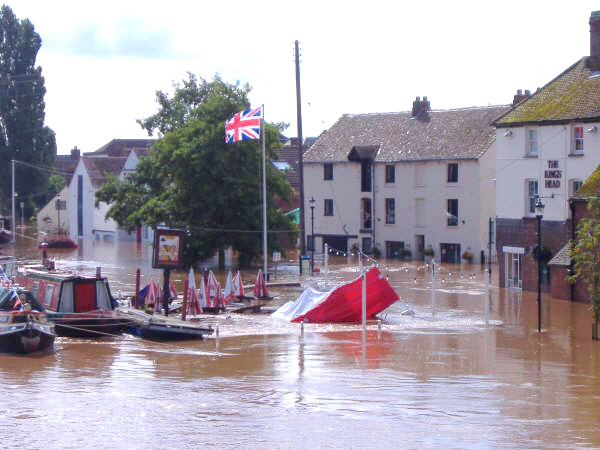 THE floods crisis in central and western England continued yesterday with tens of thousands of homes stranded without water and electricity supplies.
Up to 350,000 people in Gloucestershire faced being left without water as the River Severn threatened to overflow.
Residents were told the situation could last several days and the Environment Agency warned water levels were expected to exceed those of the devastating floods of 1947.
Severn Trent Water said 150,000 homes in Gloucestershire were without water after a treatment works was flooded.
About 48,000 houses in the county were without power, after a major electricity substation was turned off because of the rising water.
People were urged not to panic buy and to do all they could to conserve water.
Prime Minister Gordon Brown told a morning press conference he would set up a review of the crisis, focusing on drainage and how the UK could protect itself against further flooding.
Extra funding would also be given to local authorities to help pay for essential emergency work in the aftermath of the crisis, he said.
Meanwhile, severe flood warnings were issued for the Midlands, Oxfordshire and Bedfordshire.
A spokesman for the Environment Agency said the River Severn and the Thames would continue to swell until Tuesday and that levels on both rivers could increase beyond those of 60 years ago.
Bill Oddy, from West Oxford District Council, said the area could experience further problems in the next few days.
Some 3,000 homes had been flooded in the area, with 500 people evacuated – mostly elderly people from care homes.
Meanwhile, the government's housing green paper will not rule out the building of new homes on flood plains, housing minister Yvette Cooper admitted yesterday.
She said that the government would continue to allow houses to be built on flood plains where the 'proper defences' are in place.
The Environment Agency has said that the River Severn and the Thames will continue to swell throughout Tuesday, and many flood warnings remain in force. The Agency's website provides detailed help for anyone affected by the flooding.