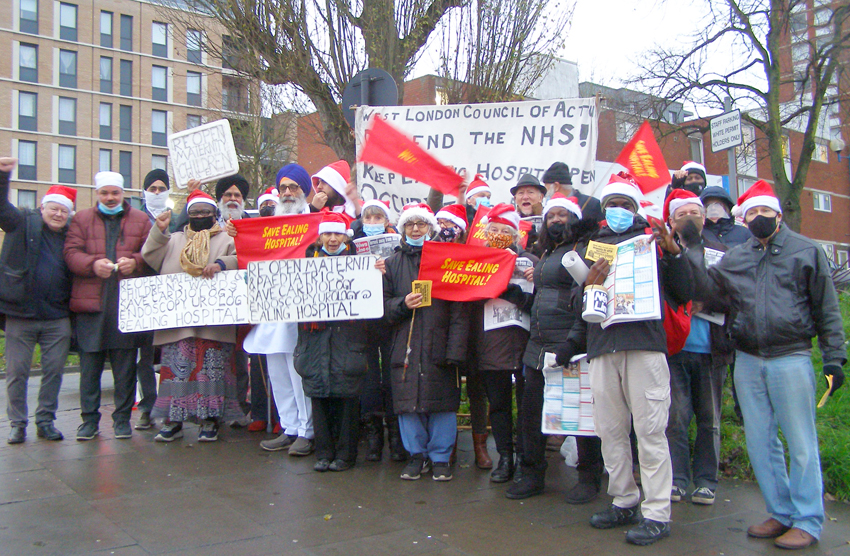 THE WEST London Council of Action got a huge response at their Xmas picket at Ealing Hospital, yesterday morning.
Shaihin, a paediatric nurse at Ealing in the RCN union said: 'I worked in the Charlie Chaplin Children's ward for twenty years, until it closed, which was very, very sad for everyone who worked on the ward and everyone who used the ward.
'The children's ward must be reopened, there is such a backlog in children's cases.
'If a child has an accident and they accidentally turn up here at Ealing they will be transferred to Northwick Park Hospital which is seven or eight miles away.
'Even in an ambulance that still takes time and in some cases could be the distance between life and death.
'Here at Ealing there is no paediatric doctor in Accident and Emergency (A&E) to access children and this is dangerous.'
The Singh Sabha gurdwara came down to join the picket, bringing an urn of hot tea. Jitpal Singh from the gurdwara said: 'We also want the children's ward and the maternity wards to be reopened. We also support the farmers' struggle in India.
'Struggle until victory, that is my motto. In India there has been a general strike in support of the farmers, all sorts of labourers and every section of workers has got involved in it.
'With devious laws, the Modi government is trying to steal people's land and make a capitalist country and make all people their slaves. We won't let that happen.'
Salina Thapa stopped to support the picket. She said: 'I have recently graduated in Micro Biology but it is so hard for graduates to find a job in their field these days. I feel so strongly about the NHS. It must be for the people and the community and not be privatised.
'I am from Nepal and in my country we do not have a free health care system. Health care is a basic human right.'
G S Dhillon said: 'I am a trustee of the Moorfields Eye Hospital and of Sangat Television. We have to stop a privatised health system from coming in. If they privatise the NHS, how are poor people going to get treatment. When they privatise services all they think about is profit. We must not let them do this. The trade unions must take action against this.'
Audrey McLennon, who travelled from Brixton in south London to join the picket, said: 'They must reopen the children's department it is very necessary, as is the maternity department.'
Local resident Pam Kaur said: 'They must reopen the children's ward. I am for the cause.'
Sahota JP from the Singh Sabha gurdwara said: 'The population is increasing, we need more hospitals, more public services. Cutting services is no good, it is wrong.'
West London Council of Action picket to keep Ealing Hospital open – today there will be a Christmas picket from 7-9am