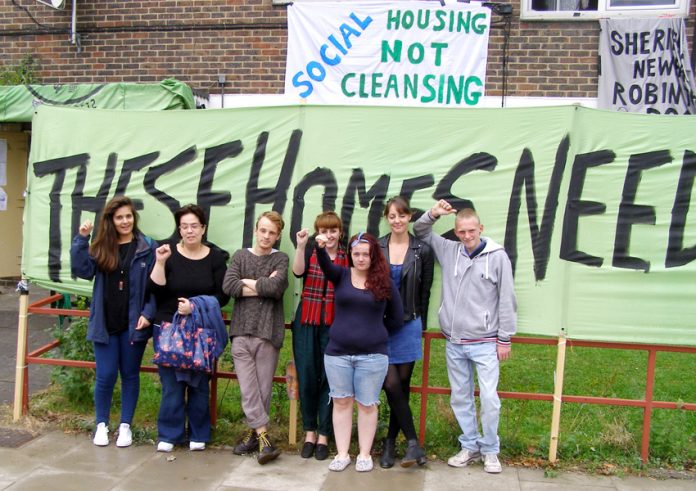 FIERCE local opposition has emerged on the Carpenter's Estate, in the heart of Stratford's Olympic Village, where tenants are being forced from their homes, and transported to areas outside London by Newham Labour Council to make way for privateers.
Local mum's and supporters have occupied four of the empty flats on the Carpenter's Estate to draw attention to the Labour Council's favouritism towards wealthy property investors.
Sam Middleton spoke to News Line: 'I'm originally one of the E15 Focus Mother's Group, and we are here occupying politically, to raise awareness that there is a great deal of perfectly good social housing here, but it's been boarded up, for what reasons? Newham Council are saying it's not "viable".
'Our main demands are social housing, not social cleansing, and basically repopulate Carpenter's estate and stop the evictions.
'They are taking people who have lived in Stratford all of their lives and moving them off to make way for all the private investors, bankers and high rollers.
Saskia O'Hara said: 'Our demands are for social housing – not affordable housing – but social housing. There are huge numbers of people being sent outside London, we know from our street campaigns.
'So we say repopulate the Carpenters Estate because it has over 400 homes, that are perfectly suitable.'
Jack Smith said: 'E15 Focus Mother's Group have occupied four flats on this estate since Sunday last, as a way of highlighting, the huge housing stock that is available but isn't being moved into, and the way in which council housing is now being commodified.
'There is an artificially created housing crisis, and unequal access to housing which means that now large numbers of people who are homeless are being shipped out of London.
'Meanwhile estates like this are being demolished or sold off to private developers, as a way of trying to keep an economy going.
'People are even now being moved off this estate to places as far away as Hastings.
'There is a court hearing on Thursday, where the Labour Council are seeking an injunction against this occupation. We are calling on everyone to come along and support us'.