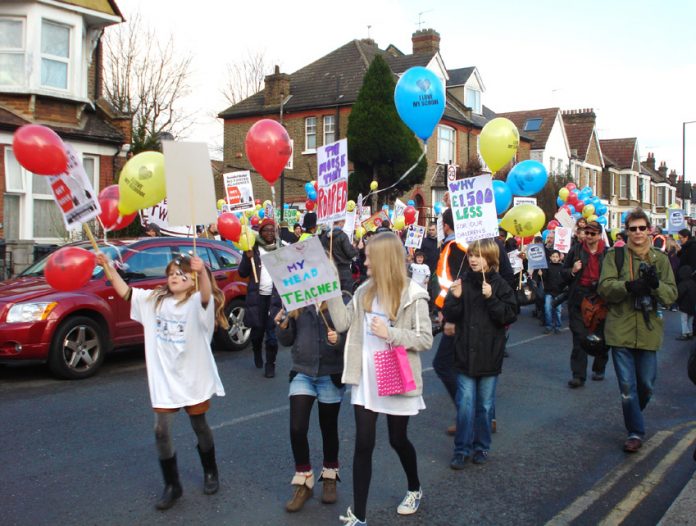 TEACHERS taking strike action today against DfE plans to force Downhills Primary School in Haringey to become a sponsored academy will be supported by pupils, parents and governors.
Parents have been engaged in a very active campaign to retain Downhills as a Local Authority maintained school.
There have been protests and demonstrations to insist that the move is unwanted by the local population and to encourage the Local Authority to more actively support the school and to issue a strong statement indicating that it wishes to continue to keep Downhills within the Haringey family of schools.
The strike action being taken by NUT members is widely supported by the community.
Christine Blower, NUT General Secretary, said: 'Parents, teachers and governors at Downhills Primary School have continually stated they have no wish to become an academy.
'Forcing academy status on schools has nothing whatsoever to do with standards but everything to do with the break-0up of our education system.
'The free schools and academies programme is neither wanted nor needed. Michael Gove is simply playing fast and loose with taxpayers' money and the future education of generations.'
Tim Harrison, NUT London Regional Secretary said: 'The interests of Downhills School are best served by it continuing to be a local community school supported by governors from the area and maintained by the Local Authority.
'There is very little support for the government's intervention to seek to impose an unwanted sponsor and the school becoming an academy.'
l Meanwhile, the University and College Union (UCU) announced yesterday that members at Sunderland College have voted overwhelmingly to take strike action in a row over pay. A date for the action will be announced in the next few days.
Nine in ten (88%) members who voted backed strike action and over three-quarters (77%) backed action short of a strike.
The dispute centres on the college's plans to cut the salaries of more than 150 lecturers by £10,000 and downgrade 70% of its teaching workforce to inferior pay grades.
The move breaches nationally-agreed pay scales and will leave Sunderland College staff paid far less than lecturers elsewhere and around £8,000 less than the average UK full-time worker.
The union accused the college of trying to deliver teaching on the cheap and using the current funding difficulties in further education as an excuse to cut staff pay.
UCU regional official, Iain Owens, said: 'Members will not sit by while their pay and conditions are attacked in this punitive way.
'The college cannot afford to dismiss this result and should be looking to work with us instead of finding excuses to deliver teaching on the cheap.
'Breaching nationally agreed pay scales is not in the long-term interest of the institution.'