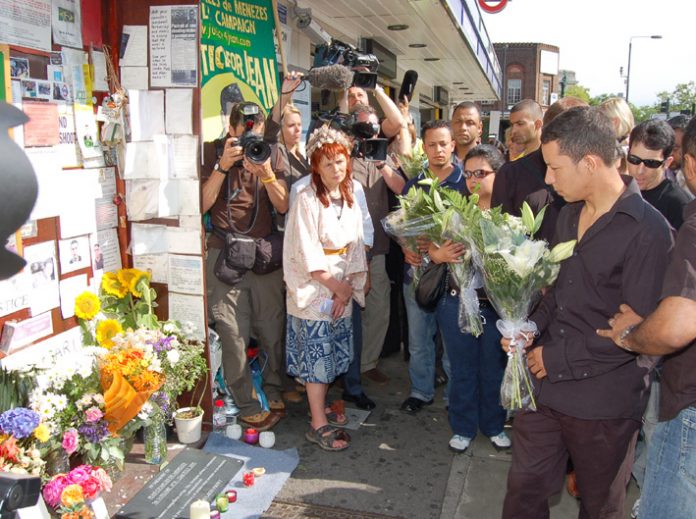 'I THINK we are dealing with a mafia not a police organisation,' alleged the cousin of murdered Brazilian man Jean Charles de Menezes yesterday.
Alex Pereira was reacting to the news that Cressida Dick – the officer in charge of 'tactical delivery' of the police operation when Jean Charles was shot dead on July 22 last year – has been promoted and is to become a Deputy Assistant Commissioner of the Metropolitan Police.
Jean Charles was shot repeatedly through the head at point blank range by armed police who held him down in his tube seat at Stockwell station.
'It's unbelievable,' Alex Pereira told News Line. 'These people went too far.
'Why don't the police release everything they have?' he asked.
'Why is no one guilty of anything. Why are they hiding everything.
'They must release all the material they have.'
He added: 'My cousin didn't do anything wrong. He was 100 per cent innocent.
'We want all the pictures of the scene released, the IPCC report and the details of the last conversation my cousin had on his mobile phone, then we can see what happened, what he did and what the police did as well.'
A statement from Jean Charles' family released after the news of Dick's promotion said they were 'absolutely disgusted and outraged at what is just one more slap in the face'.
Metropolitan Police Authority chairman Len Duvall admitted there were some 'sensitive and unprecedented circumstances involved', after the authority announced the appointment of Dick and other officers being made into Deputy Assistant Commissioners on Tuesday.
But Duvall added: 'The MPA would not prejudice an officer's fair promotion prospects by making assumptions about future disciplinary action.'
A spokesman for the de Menezes family said they couldn't understand 'how this can possibly be happening.
'We have not even seen the beginning let alone the end of the legal process as to who is culpable and responsible for the death of an innocent man,' the spokesman said.
'How can the Metropolitan Police Authority give the green light to promote Cressida Dick, someone who is centrally involved in the court case?'
Dick's promotion comes a week before The Office of the Metropolitan Police Commissioner is due to stand trial accused of health and safety breaches connected with the shooting.