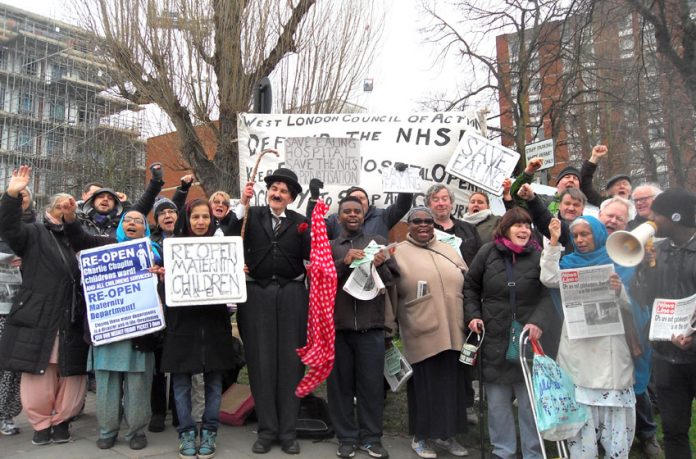 '600 BED cuts, 8,000 jobs to go! This is no good. If they close the A&E where are patients going to go? I was involved in the junior doctors' struggle and I came out and joined the strike. Strike action is important,' BMA member Dr Bunney said yesterday.
She was speaking to News Line at the mass picket of Ealing Hospital in west London which began at 7am yesterday morning. The West London Council of Action call the weekly picket and monthly mass picket of Ealing Hospital to demand the re-opening of the maternity, the re-opening of the Charlie Chaplin Children's ward and to defend the A&E.
Leona Chikato, RCN sister at Ealing Hospital told News Line: 'I am against the Sustainability and Transformation Plans (STPs). They are cutting beds, they are cutting resources, but they are not cutting infection. Infection is overwhelming. The number of patients are increasing, but the number of beds is being cut.
'So at the end of the day they are increasing the number of deaths. This means that they do not care. They are making a business out of patients' sickness. You cannot make a business out of patients. Their idea is to cut money and cut services. This is why the trade unions must take action. We can't watch the services disintegrate. We have to take action.'
The lively picket shouted: 'Re-open the Charlie Chaplin Children's Ward! Trade unions must act!'
Equity member David Girt came to the picket as Charlie Chaplin. He said: 'The cuts go on and people suffer even more. It seems to be death by a thousand cuts. Charlie Chaplin stood up for the poor, the lost and the lonely and so should we.
'The NHS was founded to help people, not to make profit. Re-open the Charlie Chaplin children's ward – the children are our present and our future. Charlie Chaplin first lived in this area in the children's home. He came back to support this area in the 1930s on one of his world tours. There were still 400 poor children living at his old children's home.'
Airline staff Geetha Chennancheeti said: 'This hospital is really good. I came here to the A&E and they were very good to me. There was a young doctor, I had a kidney problem, it was really busy in the A&E but she made sure that I got to see someone on the same day.
'That is how I found out that I had a serious kidney disease. This is why the A&E must stay open.'
Medical Secretary at Ealing Deneisha Wisdom said: 'Ealing is in a very accessible location and a lot of local people need it. The elderly rely on this hospital as there are a lot of issues with transport to get to other hospitals. There needs to be strike action to save this hospital.'
Pravin Kerai, a bus driver in the Unite trade union, said: 'What is the point of having a hospital if it is not going to treat you in an emergency? The A&E must stay open. My bus drivers' union and every union must take action to defend Ealing and every hospital which is threatened with closure.'