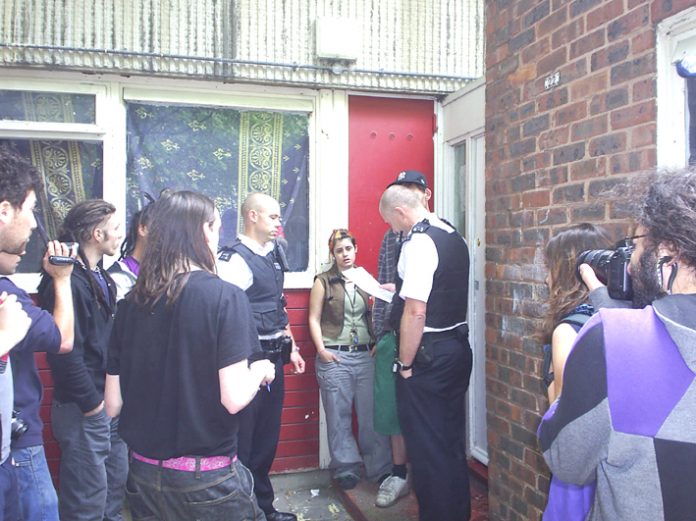 SOUTH-EAST London Council of Action joined with local residents to stop the eviction of young people from homes on the Heygate Estate in Elephant and Castle yesterday, where tenants are resisting plans to sell-off the council housing to private developers.
Vally Wilson, secretary of the South-East London Council of Action, said: 'We came here today to defend the council housing and stop illegal eviction of people who live here.
'We partly succeeded in bringing to the council's attention the issue of illegal evictions and the issue of people not wanting to leave the estate.
'We are against the council's tactics and deliberate harassment and intimidation to put tenants on the street.
Pablo Goni said: 'Yesterday I received an illegal eviction letter from the council where they tell us that we have to leave in 24 hours.
'But this letter has not come from the court.
'They say that they are going to put this family here, but it's not true, because these homes are not in a good state to house families and what they are doing is closing housing with metal sheets and doors.
'This happened three weeks ago: someone received the same letter and now the house is sealed and we have the paper with the number of that home.
'I have a picture of that household closed.
'I contacted the Council of Action and the squatters association and we met in front of my home.
'This is something that had to be done very hurriedly.
'It is critical to defend the council estates, to keep these homes open so that people can still live here and they don't waste council housing, leaving it empty for two years until the demolition.
'We want to stop the estates being sold off and we will stay here as long as we can and lots of tenants feel the same, because they are being bullied with the same kinds of papers.
'We want to stop bullying and stop privateers taking over.'