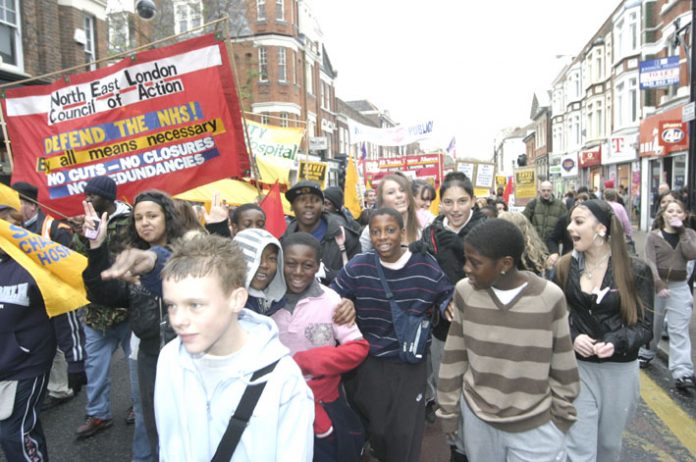 THE moment of truth is fast approaching for action to be taken to stop the closure of Chase Farm Hospital in Enfield, north London.
The Independent Reconfiguration Panel has arrived in the area at the behest of Labour health secretary Johnson.
The Panel is charged with reviewing last year's alleged 'public consultation' on plans to close the hospital's Accident and Emergency, Maternity and Paediatric departments, and build a privately-run polyclinic in the hospital's grounds.
The Panel's chairman Dr Peter Barrett is due to report back to Johnson on July 31, and comments Barrett has made to the local press have been taken as an indication that he will approve the closure plans.
Patients are faced with travelling from Enfield to Barnet General or North Middlesex Hospital in Edmonton, in the event of Chase Farm A&E, Maternity and Paediatric departments being closed.
Barrett said that members of his team have already visited the three hospitals and his journey in a taxi between Barnet and Chase Farm only took 15 minutes.
When challenged, he said other panel members could test out public transport between the two hospitals.
Echoing health minister Darzai, Barrett said of his remit: 'A good reconfiguration starts with clear drivers for change, based on sound and sustainable reasons, and involves local people from the very beginning.'
Barrett admitted: 'The NHS in the past has not been very good at consultation.'
In an attempt at reassurance, he added: 'At this stage, we don't know if it has been good or not in this case.'
The spin is that health secretary Johnson will 'accept' Barrett's recommendation on whether to 'relocate services' and has reportedly 'accepted' all the recommendations of the Reconfiguration Panel to date.
The North East London Council of Action, which is preparing to occupy against closure, is holding the latest of its monthly mass pickets of the hospital today.
Bill Rogers, secretary of the NE London Council of Action, said yesterday: 'The 15-minute journey time is rubbish.
'I've done that journey by car and it took about 35 minutes.
'This chap might be able to afford to do this journey in a taxi, but an awful lot of patients can't afford to travel from hospital to hospital by taxi, especially if they're regular visitors and they've got regular appointments.
'The journey time by public transport, ie by bus, is over an hour.
'Patients who travel to Chase Farm from areas such as Cheshunt, Waltham Abbey and Broxbourne would have to make even longer journeys to get to Barnet.
'I spoke to a woman this morning at North Middlesex, which is one of the other sites that would take patients from Chase Farm.
'She said she would have preferred to go to Chase Farm.
'And when you're in pain, to spend over an hour travelling, it's not funny.
'It seems to me that this Independent Reconfiguration Panel is going to rubber-stamp the closures of the Paediatrics, A&E and Maternity departments and effectively smash up Chase Farm Hospital.
'We're going to be picketing today from seven o'clock in the morning and what Dr Peter Barrett is saying puts us even more on our guard.
'We are going to defend the hospital with an occupation, if they move to close one bed, or one department, or one ward.'