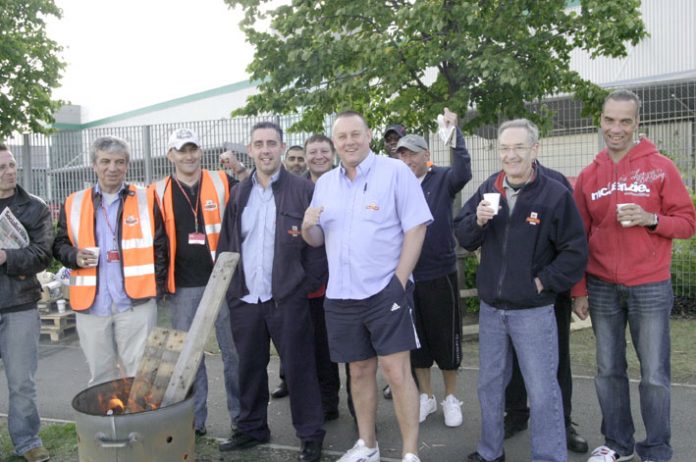 Tens of thousands of postal workers will go on strike today, tomorrow and Monday as growing unrest has led to the Communication Workers Union (CWU) calling a national strike ballot.
The CWU said that postal workers in Birmingham, Coventry, Edinburgh, London and other locations 'will each take 24 hours of strike action', beginning with night shifts last night.
The CWU statement added: 'For the first time since the national dispute of 2007 this includes Royal Mail drivers, meaning cross-country mail services will be severely disrupted.
'In addition, a national strike ballot will be conducted in September.'
Dave Ward, CWU deputy general secretary, said: 'Postal workers are sick and tired of an incompetent management running their business into the ground.
'Workers are busier than ever and being treated badly. The current round of cuts in jobs and services is unacceptable.
'Royal Mail agreed in 2007 to work with the union on agreeing modernisation.
'Despite explicit commitments to negotiate they are reneging on that agreement and imposing panic-driven cuts to jobs and services.
'This is downsizing, not modernisation.
'The company has failed to set out any clear or joined up vision of what modernisation really means.
'They must stop imposing change and work with the union to agree the bigger picture of modernisation that the postal service badly needs.'
Strike action will go ahead on Friday, August 7th in: Birmingham Vehicle Operation Centre, Burslem (Stoke on Trent), Coventry Parcelforce Hub, Edinburgh Mail Centre, Essex Regional Distribution Centre, Huntingdon, all of London, Northampton National Distribution Centre, Peterborough delivery office.
Action on Saturday, August 8th will be in: Boston, Bristol delivery offices, Dalkeith, Edinburgh deliveries, Hadfield (NW), Peterborough, and Skegness.
Members taking action on Monday, August 10 are in: Ipswich Mail Centre, Kings Lynn, Stanton, Bury St Edmonds, Thetford (Suffolk).
From Tuesday, August 11 Stoke on Trent will be taking continuous strike action.
Meanwhile CWU deputy secretary Ward has called a National Briefing in London for CWU reps for Thursday, August 13.
A circular to branches states: 'Arrangements have now been finalised for a National Briefing.
'The Briefing will be held from 11am – 14:30pm at Friends House, 173 Euston Road, London NW1 2BJ.'