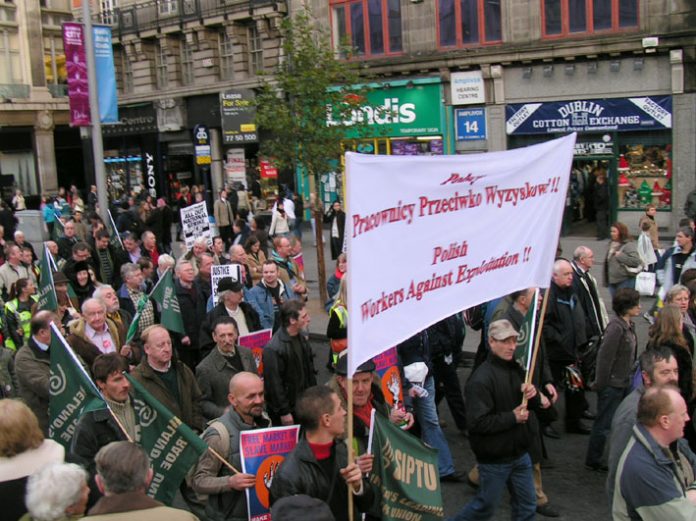 Work and Pensions Secretary John Hutton yesterday declared war on the unemployed, saying Labour will cut off benefits from those who reject the slave wage jobs which he claimed migrant workers are happy to take.
Introducing his plans for a review of Welfare Reform, Hutton warned that British capitalism can't survive without a cheap labour economy.
He said: 'People want to know how we are going to cope with the big economic and social changes that are heading our way.
'They know government cannot solve all of these problems on its own.'
He warned that for UK capitalism the 'changes that are coming' are 'real and dramatic'.
Echoing chancellor Brown he added: 'We face increasing competition from the new economies of China, India and Brazil who are competing with us now in the fields of technology and science and not just high volume manufacturing.'
Introducing the migrant worker 'bogeyman', Hutton said: 'Over the last ten years, the number of working age migrants in the UK has increased by around 1.6 million.'
He claimed: 'Net migration over the next 25 years is projected to account for almost 60 per cent of population growth.'
Turning to his main target for attack, Hutton said: 'We know there is a small group of benefit claimants without the major physical or health barriers to work associated with Incapacity Benefit – who live in areas where there is no shortage of vacancies, particularly for low-skilled jobs but who nonetheless remain on benefits for long periods of time.
'This is a key group on which we now need to focus our attention.'
Implying that the long-term unemployed are 'work-shy', he added: 'The vast majority of claimants want to get back to work and take active steps to improve their lives and are keen to get off benefits as soon as possible.'
Hutton continued: 'So we must be prepared to look at all the options for reform.
'Ten years on it is time to refresh our approach to the New Deal.
'We need to be prepared to offer individuals more help and support; to better understand how to intervene with individuals on JSA (Jobseekers Allowance) that have mild mental health or alcohol related problems.
'We need to address basic skills deficiencies with job seekers so that they are not a barrier to sustaining and progressing through the workplace.
'But if we are to break the cycle of benefit dependency, we need to ask whether we should expect more from those who remain on JSA for long periods of time in return for the help we provide.
'More active steps to get back into the labour market.
'More involvement in programmes that could increase the prospect of getting a job.
'And for those who won't do so, then there should be consequences, including less benefit or no benefit at all.'
Piling on the attack using the 'threat' of east European migrant workers, Hutton declared: 'Our welfare reforms must confront head-on the "Can work – won't work" culture in our country and ensure benefit claimants can compete for jobs alongside growing numbers of migrants who arrive in Britain specifically to look for work rather than to settle for the long term.'