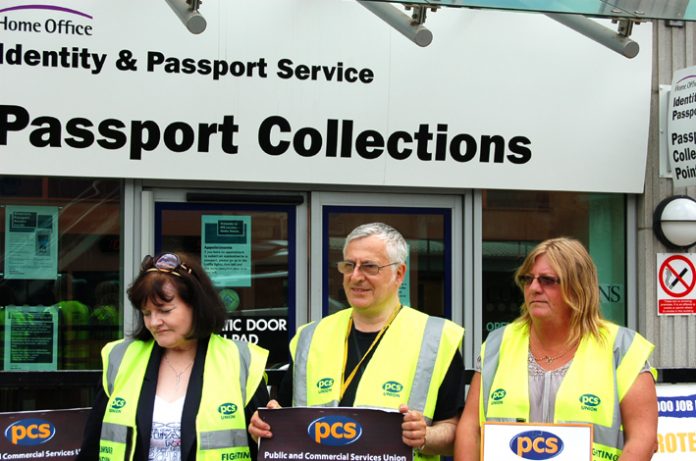 CIVIL servants picketing the London Identity and Passport Service Office (IPS) by Victoria Station, in London, had run out of leaflets yesterday, such was the level of public support.
It was the first day of a three-day strike, part of the latest industrial action over the government's policy to cap public sector pay and cut jobs, by closing offices.
The stoppage affects the UK's seven regional passport offices and 68 interview offices.
Passport staff are furious over the pay offer which leads to the longest serving passport staff receiving no pay rise at all for the fifth year in a row.
The pay offer, worth only 2.5%, comes at the same time as nearly £50 million has been spent on consultants. Starting salaries in the IPS are as low as £13,109.
Staff are also angry over the prospect of office closures which could see the UK's seven passport offices reduced to three.
The seven regional passport offices affected by the strike are: London, Liverpool, Belfast, Glasgow, Peterborough, Newport and Durham.
'We have had great public support, Joan Yusay said yesterday on the London office picket line near Victoria Station, branch chair of the London and South East Public and Commercial Services (PCS) union.
'We have this support because people want the service to remain a public service and they want to be able to come and pick up a passport for themselves–as opposed to on-line and postal applications.
'The threat is that the public counters will be taken away. There are currently seven regional offices (where the public can make personal visits for their passport applications).
'We know, because they've already said so, that they intend to close five of them. That leaves two, but where will the two be?
'They announced 150 job losses in Glasgow. What makes us especially angry is the way they've tried to introduce these measures.
'There have been no negotiations with the union, just the imposition of low pay and the announcement of new closures in the service.'