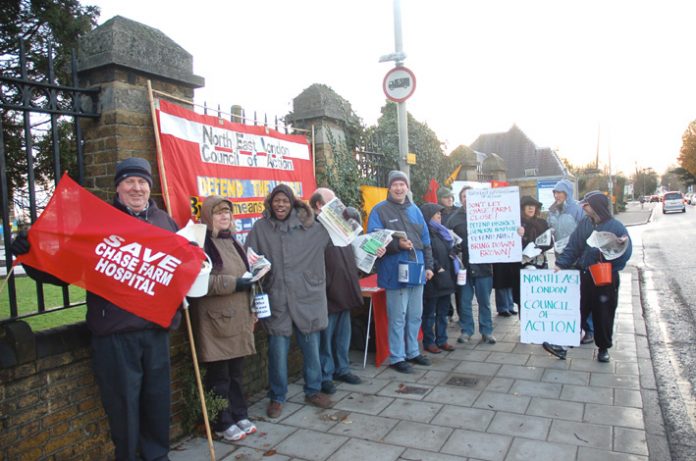 'WE ARE having a successful picket again today,' North-East London Council of Action secretary, Bill Rogers, told News Line outside Chase Farm Hospital yesterday.
'Everyone is opposed to the closure, there's enormous feeling to keep this hospital open, and people are buying tickets for the News Line Anniversary Rally. They feel very strongly about what is going on,' he added.
There were more than 20 people on the Council of Action picket from the early morning.
The Council of Action was formed to stop the planned closure of Chase Farm's Accident and Emergency, consultant-led Maternity and Paediatrics departments.
A nurse, Queeneth Onyejekwe, said: 'I don't want them closing A&E and Maternity and Children's units. I would lose my job, patients will suffer.
'We have to stop the closure. I agree with occupying the hospital and keeping it working. Otherwise the community will lose out.'
Barbara Afriyie, a student nurse at the hospital in Enfield, said: 'What they are planning is wrong.
'Where are they going to send the patients if they are in a critical condition if the A&E is closed?
'As a student nurse, we're going to lose our jobs – it's all wrong.
'We have to fight and save Chase Farm. They need to spend money to renovate it, not close it down. I would support an occupation to stop any closure.'
Sue Fitzgerald, a midwife, said: 'We have to carry on our fight to keep this hospital and all its frontline services open. We need to get the unions' support.
'All the people I've spoken to in Enfield don't want any closures.'
Laurie Covos, a student physiotherapist, said: 'I'm opposed to the closure plan.
'It would put pressure on other hospitals and patients here would have to go further away.
'You don't want to do that with the A&E and Maternity. We have to fight the closure, do as much as we can to stop any closure.'
Local school student Jenna McQuarrie added: 'If they close this A&E people will have to go to Barnet and they could die.
'And closing the Maternity would be wrong. Women can't go all the way to Barnet if they are pregnant.
'We have to stop them closing the A&E and Maternity. We've been trying to stop it for ages, I agree with occupying to stop the closure, we have to keep the hospital open.'