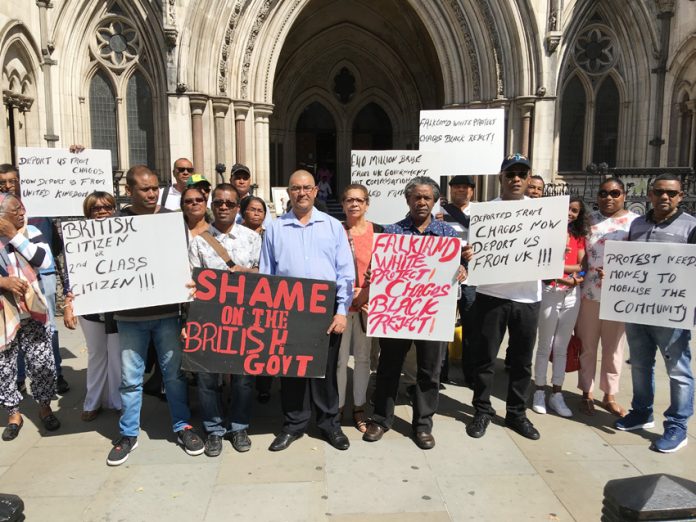 CHAGOS Islanders demonstrated outside the High Court in London's Strand yesterday, in support of Dominique Elysse, who is seeking to establish British citizenship. The court however, ruled against Dominique Elysse.
Before the hearing Elysse told News Line: 'I am going to the High Court this morning to challenge the Home Office about my British Citizenship. 'My parents were removed from the Chagos Archipelago and the British government refused to let them go back home. 'I was born in exile in Mauritius in 1968. That is why the British government is refusing me UK citizenship.
'All my brothers and sisters were born in the Chagos Archipelago. I am the only one that was born in Mauritius. All my siblings are British Citizens, yet I am not. 'I demand the right to British Citizenship as my mum is British and all of my descendants are British. 'They all came from Chagos Archipelago which is a British Indian Ocean Territory.'
Isabelle Charlot, chairperson of the Chagos Islanders' Movement said: 'We are all here to support Dominique over his unfair treatment which is happening through no fault of his.
'The British government needs to restore our family life. 'We are all gathering in Trafalgar Square on Friday 20th July 9am. Do come and join us!'
Jacques Rend, the barrister representing Dominique Elysse said: 'He was refused permission to appeal for a judicial review into him acquiring British citizenship. 'We are going to keep fighting and we are going to the Court of Appeal. 'Permission wasn't granted at the High Court. Effectively the court said that because it is primary legislation that we are attacking, the Home Office do not have discretion to go behind primary legislation.
'We believe that the Home Office have discretion in this matter. There has been an injustice, when you look at the Windrush saga, they were flexible in relation to that and there is no reason why they could not have applied the same discretion to Dominique Elysse.'