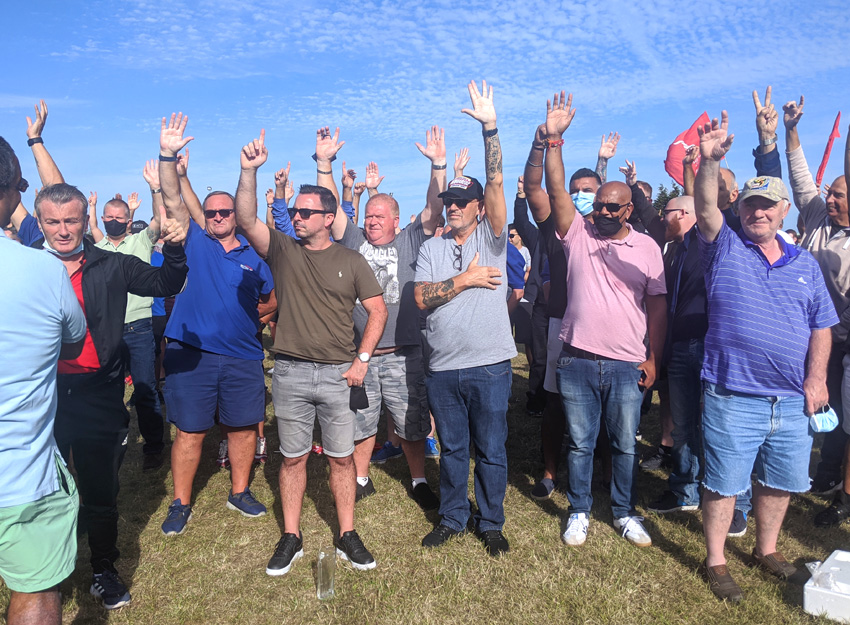 'CALL the whole airport out to defend all jobs, pay and conditions,' striking Heathrow Airport Limited (HAL) worker, Jarnail Singh, said yesterday ahead of today's second day of four days of HAL strike action this month.
Unite has also just announced that 840-plus British Airways (BA) cargo workers will take nine days of strike action beginning on Christmas Day following a 98% strike vote.
Both strikes are being taken against management's imposition of 'fire and rehire', under which the workforce is sacked and only reinstated under new contracts involving massive 25%, £8,000 a year pay cuts.
'Why haven't they called us out together? said J Singh. 'My personal view is that the danger is that these separate strikes are going to be ineffective.
'If you are trying to achieve something then you need to use all your strength and power.
'The clue is in the name of the union itself – Unite – but we are now that in name only.
'Unite has played catch up throughout, they have never been on the front foot against these ruthless employers.
'Most of Unite's action has been knee jerk reaction and not well-planned united action as it should have been.
'I still stand with Unite, but it would have been better for everyone, both at HAL and BA, if our actions were joined up.
'Unite has only called some of us out at HAL and only Cargo at BA. The whole airport should be called out to defend all our jobs, pay and conditions.'
A rally in support of the HAL strikers is being held at Bedfont FC, The Orchard, Hatton Road, Feltham TW14 9QT at 11am this morning.
Speakers at the protest will include several local MPs, including John McDonnell MP and James Murray MP, as well as local councillors and representatives of the striking workers.
Unite will be holding a further two days of strike action this week on Thursday 17th and Friday 18th December.
Announcing BA Cargo strike action from 25th December till 2nd January, Unite assistant general secretary Howard Beckett said: 'Unite has bent over backwards to give British Airways the opportunity to make a fair offer to its cargo workers and it has failed to do so. As a consequence Unite has no option but to announce strike action.
'Our members are taking this action as a last resort. They are aware that it will cause severe disruption to air freight entering the UK but they simply can't afford to lose a quarter of their pay.
'Even at this late stage British Airways' new chief executive Sean Doyle can do the right thing and avoid this strike action.
'The company needs to withdraw its plans to fire and rehire its cargo workers and negotiate a fair deal for its cargo workers.'
Peter Gardener, BA Unite member, told News Line: 'Obviously we're suffering from a divide and conquer ruse again. I don't understand why we can't unify and have a consolidated front. It is ludicrous.
'They are all in the same offices in Unite and the disputes have the same reasons, all about workers' positions, rights and contracts and the two actions should be brought together.
'The union should widen the net. It's been a fractured campaign. Unite knew what was coming and should have prepared action not just to protest, but to win.'