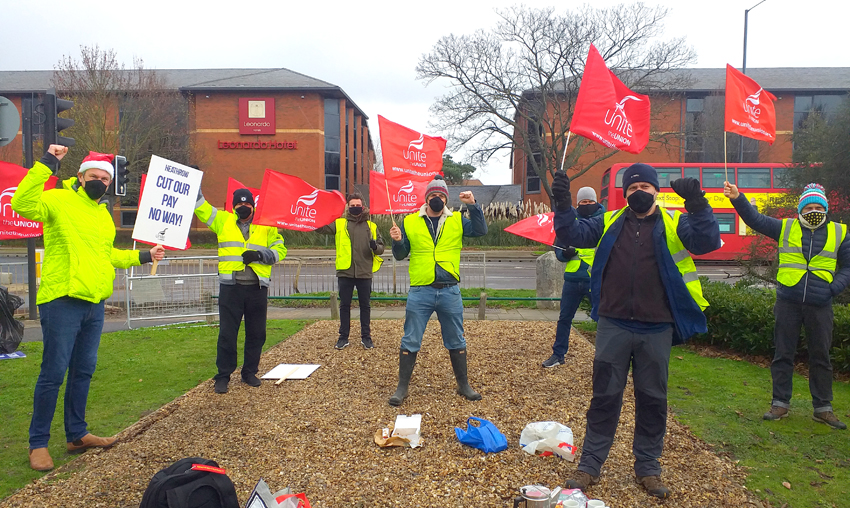 FOUR thousand Heathrow Airport Limited (HAL) Unite members came out on strike yesterday, with many demanding that the action should be united with British Airways workers who are also striking later this month.
Speaking at a rally at Bedfont Football Ground at the beginning of yesterday's strike, Raj Aran, Unite member, said: 'We should all be united. The HAL and BA strike have got similar rhetoric – fire and rehire.
'The BA workers have got nine days of strike action from Christmas Day, we have got two more days of strike on Thursday and Friday this week.
'I have mates at BA. We are all one big family on the airport. We are all workers and we have got to stick together. We are speaking to our regional officers, coordination is required. Let's coordinate it.'
Speaking at the rally Hayes and Harlington MP John McDonnell said: 'HAL management disgracefully saw Covid as an opportunity to cut pay, jobs and conditions.
'What they are trying to do is to use a temporary crisis to achieve permanent savings.
'It is exploitation. We need to draw a line in the sand.'
Later McDonnell told News Line: 'HAL and BA strike should be brought together. They always should be together.'
Wayne King, Unite regional officer, told the rally: 'The HAL management are just using the Covid crisis as an excuse to terrorise their employees into accepting new terms and conditions.
'Our time is coming and they need to watch out.'
Asked by News Line if he agrees that the BA and HAL struggles should be brought together King replied: 'They will be but we have to follow the law. We have to give fourteen days notice.'
He was then asked: 'But will you bring the strike together?'
He replied: 'What do you think? I have every intention to make this as big a collective dispute as I possibly can.'
HAL striker Danny Simpson said: 'Everyone in the airport should be out, shut it down. Each company is doing the same thing. With BA coming out it would be nice if we were all out together.'
HAL striker Parveen Johal said: 'Of course we should unite the HAL and the BA strike. I have taken a 25% pay cut and so have they. I cannot afford it. I am struggling. I am going to have to take a second job.'