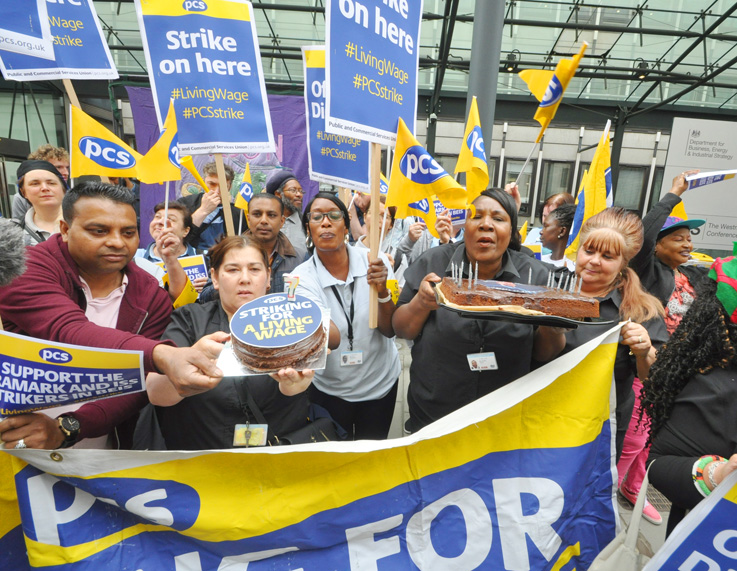 OVER 20 PCS catering workers at the Department of Business, Energy and Industrial Strategy (BEIS), working for contractor Aramark, walked out on indefinite strike at 12 noon yesterday.
They were greeted by cheers and applause from a crowd of trade unionists and BEIS staff.
A rally outside the BEIS building in London's Victoria Street was addressed by the union's general secretary Mark Serwotka, striker Anna Price and speakers from the RMT, UCU, NEU, Unison and chancellor John McDonnell.
Serwotka told the rally: 'This union is proud of your decision to start an indefinite strike. Also on strike today are cleaners for ISS in Liverpool and last week Interserve union members at the Foreign Office.
'We are demanding that you be brought back in-house so you can be treated the same as everyone else by being brought back into the public sector. We think that this employer has broken the law by bringing in agency workers.
'This is a battle to the end, there is nothing we cannot achieve.'
Striker Anna Prince said: 'I work for Aramark and it's a disgrace the way we have been treated. If we have to see a GP in the morning we lose half a day's pay, we want full sick pay and 28 days holiday.
'Some of my colleagues are on the verge of becoming homeless – shame on you Aramark! We are the ones who make you rich and we say enough is enough.
'We deserve to be treated with dignity and respect – a manager comes down where we work and just ignores us – but his bank account is full because of us, we are the ones who do the labour.'
RMT leader Mick Cash told the rally: 'We want an end to outsourcing on the railway and everywhere else.'
Labour shadow chancellor John McDonnell said: 'You are an inspiration to all of us and you will win. When we get into government we will ensure no services will be outsourced, and those that have been will be brought back in-house.'