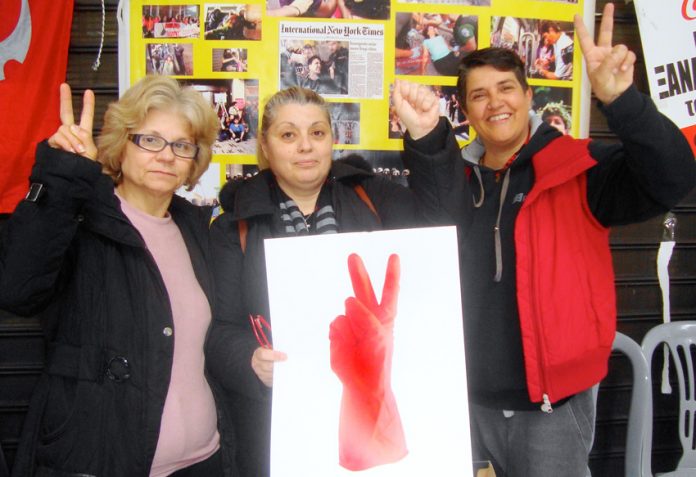 THE new Greek Prime Minister, Alexis Tsipras, the leader of the Coalition of the Radical Left (SYRIZA), announced his government on Tuesday.
Meanwhile, the sacked Finance Ministry women cleaners reached 267 days of fighting to get their jobs back at their Camp of Struggle outside the Finance Ministry building in central Athens.
Three of the sacked cleaners, Katerina Kapodistria, Despina Kostopoulou and Fotini Nikitara, spoke to the News Line on Tuesday and expressed their 'hope and joy' for the election victory of SYRIZA at Sunday's general election.
They said that now they expect to get their jobs back. The 595 women cleaners at inland revenue offices throughout Greece, were sacked in September 2013. Since then they have campaigned every day and night despite riot police attacks, court decisions and lack of support from the trade union bureaucracy.
In the new Greek coalition government, of SYRIZA and its junior partner the Independent Greeks right-wing party, the Ministries of Economy, Finance, Foreign Affairs, Justice, Education-Culture have been given to SYRIZA university professors.
Long-standing SYRIZA parliamentary deputies, from both the right and the left wing of the party, have been appointed to the Interior-Public Order, Development-Environment, Labour and Health Ministries.
The leader of the Independent Greeks party, Panos Kammenos, has been appointed Defence Minister.
Four other Independent Greeks parliamentary deputies have taken up deputy minister positions.
Economy Professor Yianis Varoufakis is the new Finance Minister who is to 'renegotiate' with the European Commission and the IMF new terms for Greece's bail-out agreement, the hated Austerity Accords.
From 2007-09 he was an economic adviser to the social-democratic PASOK leader Yiorghos Papandreou.