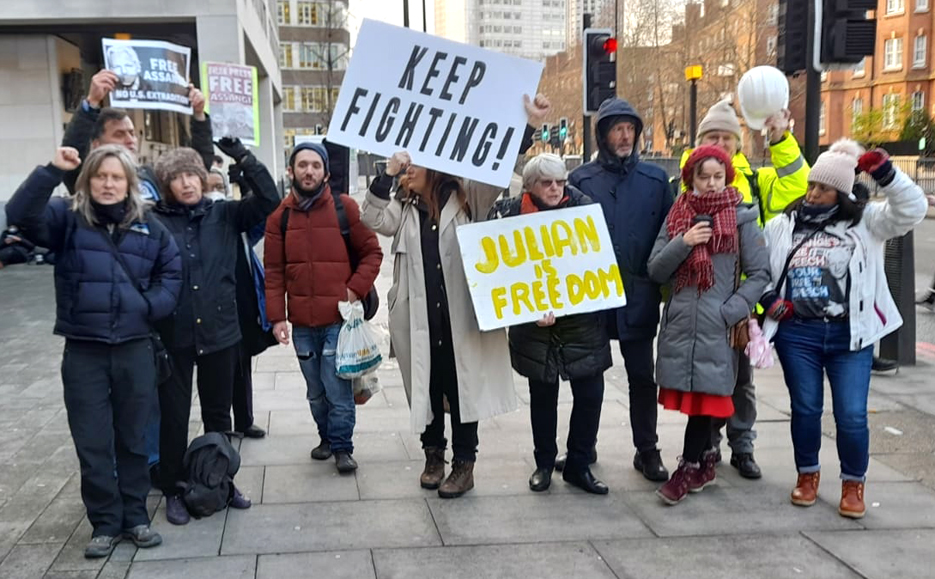 WIKILEAKS founder Julian Assange has been sent back to Belmarsh high security prison after a judge refused him bail yesterday, despite a decision to block his extradition to the United States.
The decision taken at Westminster Magistrates Court in Marylebone means that Assange still cannot be reunited with his family.
District Judge Vanessa Baraitser said he must remain in prison while the courts consider an appeal by US authorities against her decision not to extradite him.
The judge said Assange 'has an incentive to abscond'.
Outside the court Assange's partner and mother of two of his children, Stella Moris, said the decision was 'a huge disappointment.' WikiLeaks spokesman Kristinn Hrafnsson said 'It is inhumane. It is illogical.'
Joe Brack from the Julian Assange Defence Commitee (JADC) told News Line outside the court: 'The National Union of Journalists (NUJ) must call a strike and a national strike at that, Assange is one of their people.
'The other unions must follow suit. We have had support from the Unite union and Aslef – now we need strike action.
'The decision today is a disaster for Assange and a cataclysmic attack on free speech.
'Judge Baraitser has confirmed the continuing suffering and torture of the Australian journalist.
'Julian's extradition was denied due to his health issues and it is clear that these issues should be sufficient to grant him bail.
'The US prosecution have launched their appeal on the extradition which will be heard some time in May.
'This means five months of continued incarceration at HMS Belmarsh and absolute horror for Julian Assange.'
Investigative journalist Craig Murray told News Line: 'It is very disappointing and quite illogical that on Monday the Judge ordered Assange's extradition to be blocked on health grounds, then today the same judge orders that he must be held in custody while the appeals process takes place.
'It is also a vindictive judgement because the judge has admitted that in Belmarsh, conditions during this Covid pandemic have worsened and that they were having an impact on Julian's mental health.
'So to deny him his right to see his family shows that they have no true concern for his health after all.'