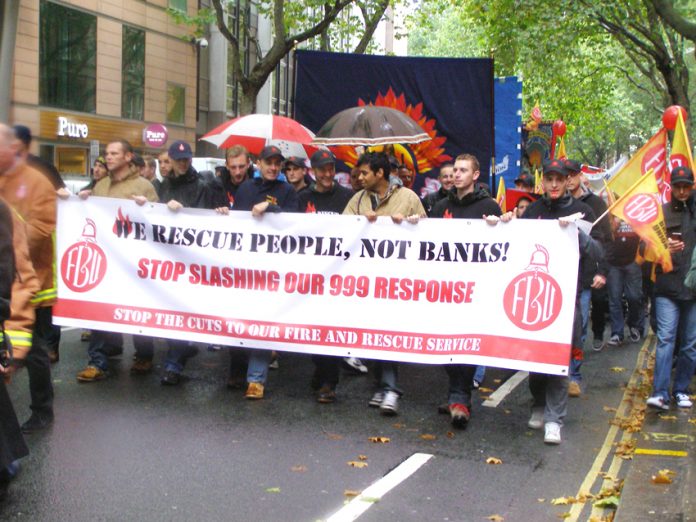 BOTH ASLEF train drivers union and the FBU firefighters' union announced strike dates yesterday.
ASLEF has called two 24-hour strikes on the TransPennine Express on Tuesday 5th November and Saturday 9th November because of the company's failure to resolve the issue of rest day rostering.
And the Fire Brigades Union has announced further strikes on Friday 1st November (18.30-23.00) and Monday 4th November (06.00-08.00) after government and fire employers failed to offer any firm guarantees for firefighters facing 'no job and no pension' as a result of pension changes.
In a statement ASLEF said: 'All non-contractual overtime ceases from Friday 1st November.
'The union has been talking to the company about the number of rest days each driver gets every year.
'Our members at TPE want the same number of rest days as drivers working for other train operating companies in this country.
'We served the statutory notice yesterday (Thursday 24 October) and, unless the company reaches an agreement with the union, the drivers will take strike action early next month.'
Mick Whelan, general secretary of ASLEF, said: 'TransPennine Express are in a hole of their own making, and they should stop digging.'
In a statement, the FBU said: 'Last weekend the FBU postponed a five-hour strike after the Westminster government and fire employers shifted their position and finally recognised that firefighters faced losing their jobs and a large chunk of their pensions under new changes imposed in April.
'Government and employers had offered various routes to tackle the problem of firefighters not fit enough to work beyond the current retirement age of 55, but this week they informed the FBU they could provide none of the guarantees necessary to address this crucial aspect of the dispute.'
Matt Wrack, FBU general secretary, said: 'The FBU has been very reasonable, but we are now faced with broken promises and those in power evading their responsibilities.
He added: 'firefighters face the sack towards the end of their career and the loss of their pension. That can't be right.'