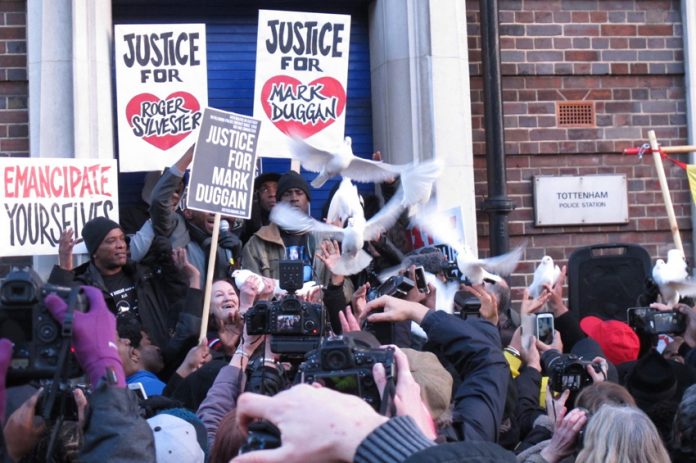 THE Independent Police Complaints Commission (IPCC) has apologised to Mark Duggan's family for 'wrongly' telling the media he had fired at police before he was shot dead in August 2011.
Last Saturday, there was an over 2,000-strong vigil outside Tottenham police station to remember Mark and all those who have died in police custody. The vigil condemned the inquest verdict last week that Mark was 'lawfully killed'.
IPCC chair Dame Anne Owens met the Duggan family on Tuesday.
Since the meeting, IPCC Deputy Chair Rachel Cerfontyne said in a statement: 'Having assessed the evidence at the inquest, there are initially a number of significant lines of enquiry which we are pursuing.
'These include following up concerns about the way the police responded to intelligence and seeking to interview some key witnesses who have so far declined to speak to or be interviewed by us, or whose accounts are inconsistent with other evidence.
'We know that the family's confidence in us and our investigation was damaged by mistakes made in the early stages – both in relation to inaccurate information we provided to the media, and the initial management of the incident.
'I would like again to record my sincere apology to them that on the evening that Mark was fatally shot by a police officer, a member of our staff wrongly led the media to believe that he had fired at police officers. I fully understand the damaging impact of this.'
The IPCC also said it would interview officers involved in the incident and expected them to co-operate, 'including answering questions at interview, something they have so far refused to do'.
It admitted that its post-incident management had come under criticism from the Duggan family as well as some experts.
It said it would provide scene management training to its investigators and in future cases of deaths following police contact it would aim to take control of the scene 'at the earliest possible stage'.
As problems can arise when 'officers confer when writing up their notes following fatal incidents', the IPCC said it would issue its own statutory guidance over 'conferring and the separation of officers', which officers would have to abide by.
Earlier, Mark's aunt, Carol Duggan, had criticised the IPCC's earlier investigation as 'incompetent' and called for it to review the case.
She said: 'No demonstrations, no more violence, we will have to fight this and go through the struggle peacefully to get justice.'