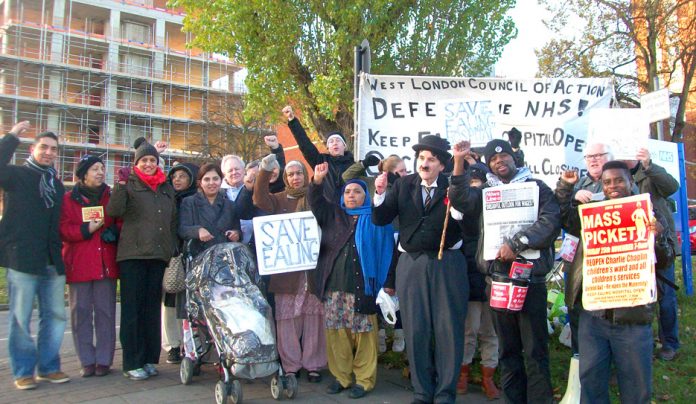 'I HAVE never seen, in the whole world, a hospital, which is meant to save people's lives, which is meant to treat pregnant women and save lives, turned into a film and TV set,' Ealing nurse Samuel Odum, in the RCN union, told News Line during the mass picket of Ealing Hospital yesterday morning.
Patients and healthworkers alike were first shocked and then outraged to hear that the maternity department, which they had fought long and hard to save, has now been turned into a set to film hospital dramas, making a mockery of their struggle.
The West London Council of Action occupied the hospital for a week and fought with everything they had to stop the closure of the maternity. However, the trade union leaders refused to mobilise their members to join the fight.
Samuel Odum continued angrily: 'Even in the developing world, I have never seen a maternity shut down and turned into a film set. The trade unions in this hospital need to take action to get the maternity re-opened. Look at this big area. If somebody is in labour they have to go to Hillingdon. Is this not silly? Are they thinking about people's lives at all?'
The 50-strong mass picket shouted: 'Save Ealing Hospital! Re-open maternity! Re-open the Charlie Chaplin childrens' ward!'
The mass picket, called by the West London Council of Action, won big support from passing motorists and ambulances who tooted their horns. Nurses and NHS workers stopped to speak to the pickets, take leaflets and buy papers.
David Girt, Equity member came to the picket as Charlie Chaplin and said: 'We have come here to help the local people keep their hospital open. People need a local hospital wherever they are and it seems totally daft what they are doing. However, this is not a comedy it is a tragedy.'
Pally Sambhi joined the picket saying: 'We need our services and it is not fair to make people travel so far to get treatment. My local hospital, Northwick Park, is so overloaded already that sometimes they tell us "do not come here, go to Hillingdon Hospital".
'If Ealing Hospital A&E closes, what other options are there? If they send the people of Acton, Southall, Ealing, Greenford and Hanwell to Northwick Park Hospital it will be a disaster!
'My next door neighbour, had a heart attack. He is 84-years-old. When he got to Northwick Park, they told him that there is no space and they took him to Hillingdon. You would not believe it. He had to wait in a queue, you could see all the trolleys in a queue so he just had to wait.'
Jinell, who works at Ealing Hospital said: 'It is so sad that major parts of this hospital are closing down. Big departments like maternity, the children's department and now the A&E are threatened.'
Sidra joined the picket with her young child, she said: 'I feel really bad that they have closed maternity down. I live near the hospital but I had to gave birth at West Middlesex Hospital.'
'Where are all the children going to go? There is not even a proper bus route. Everyone must come out. Everyone has kids, we have to worry about their future. The whole country has to come out to defend the NHS.'