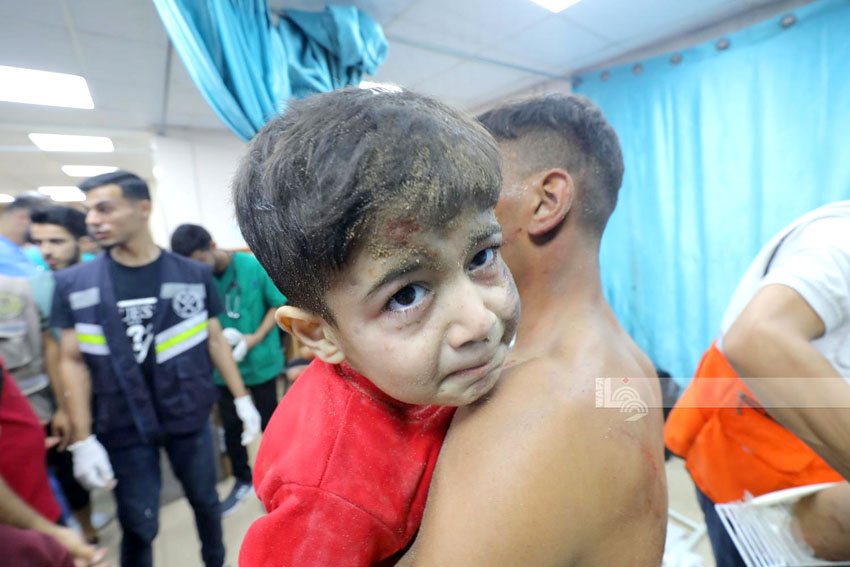 THE NUMBER of people killed in Gaza since 7th October rose to 5,087 yesterday – an increase of 436 since Sunday, the Health Ministry in Gaza reported.
This includes 2,055 children, 1,119 women, and 217 elderly people. More than 15,273 have been injured.
The Ministry also said that hospitals in Gaza have run out of fuel.
Some people who fled northern Gaza after Israeli forces told them to leave are now heading back, said the head of the UN agency for Palestinian refugees.
Thomas White from UNRWA (United Nations Relief and Works Agency) said: 'It's very dangerous in the north but people are losing their lives in the south as well.'
White said 8,000 people were taking shelter in his organisation's warehouse complex and surviving on just one litre of water a day and small amounts of bread.
The Israeli military said it had hit 320 targets across the Gaza Strip in the past 24 hours.
Overnight there were 60 air strikes in the so-called 'safe area' in Khan Younis, where Israel had told Gazans to go.
The most intense air strikes were around Al-Quds Hospital in Gaza City, where the director, for the third time, received a call from Israeli intelligence telling them to evacuate the hospital.
He said yesterday morning that they have 500 patients in the hospital, and another 1,500 people are sheltering there – they decided not to leave because, he said, there is no place to go.
The director said there were 10 strikes within 100 metres of his hospital.
Yesterday morning the Israeli Defence Force said that missiles had been fired at them by Hamas, one IDF soldier was killed and three others injured.
The armed wing of Hamas said it happened east of Khan Younis in southern Gaza – the city where Palestinians had been told to go for their own safety – and Israeli soldiers crossed the fence 'for several metres'.
Hamas's armed wing said they 'engaged with the infiltrating force' and destroyed two bulldozers and a tank. They said Israeli soldiers left their vehicles and fled east of the fence on foot.
Scottish First Minister Humza Yousaf said yesterday that his mother-in-law and her husband are living through 'torture' in Gaza.
'They're down to six bottles of clean drinking water in a house of 100 people including a two-month-old baby, she tells me,' Yousaf told journalists in Brechin.
•  See editorial