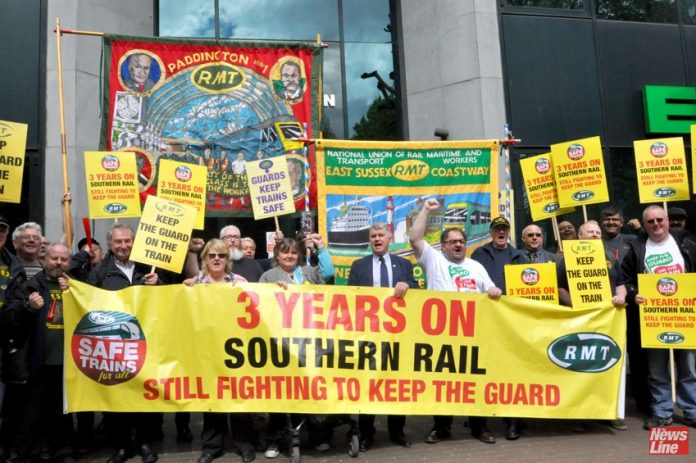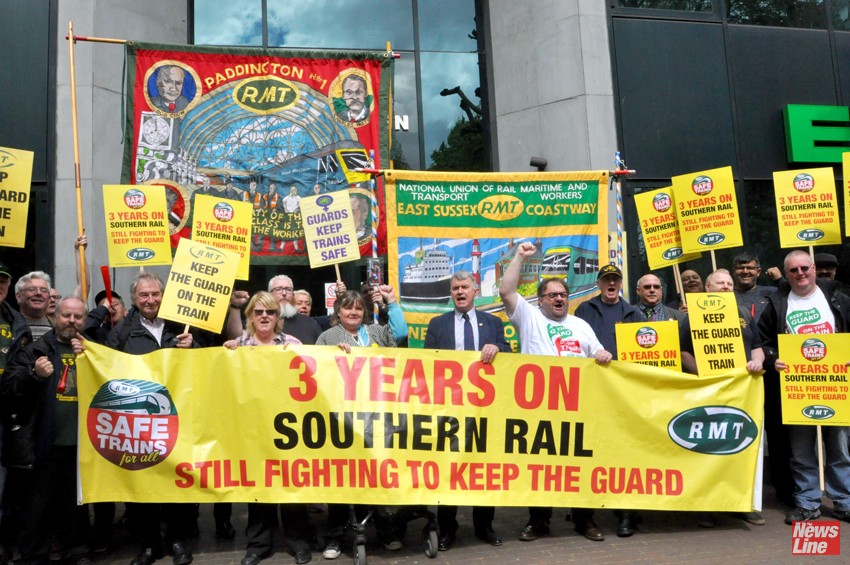 HUNDREDS of train workers rallied in Euston yesterday to mark three years of the guards strike, the longest in modern history, which has begun to drive the privateers back over their attempts to make trains Driver Only Operated (DOO) – a move which puts passengers' lives at risk.
On the third anniversary of the start of the strike actions, train workers union RMT has already won several major battles.
In February 2019, after 47 days of strike action, Northern rail was forced to guarantee a guard on every train; and after a year of strikes, in August 2018, MerseyRail reinstated the guards; and in October 2016, ScotRail agreed to do away with DOO trains.
However, at least 15,000 Southern Rail services have run without a second person on board.
DOO services were introduced in 2017 and are dangerous for a number of reasons.
Firstly, if there is a crash and the driver is killed, passengers may try to self evacuate onto the tracks, risking electrocution or getting hit by another train.
Secondly, without the guards disabled people will have no one to help them get off the trains.
And thirdly, there will be no guard to alert the driver if someone's bag or coat gets trapped in the door, if there is a fight on the train or if someone is unwell.
The Equality and Human Rights Commission has recently warned that without the guard on the train 'protection for disabled people is diminished' and this represents a 'potential breach of the Equality Act 2010.'
RMT general secretary Mick Cash said: 'Three years on in the fight to keep the guard on Southern Rail trains the shocking reality of the scale of discrimination against disabled passengers is laid bare.
'This scandal has to end and end now, and that means Southern reversing their Driver Only policy and signing up to the guard guarantee.'
Meanwhile, transport bosses have admitted that Crossrail is two years behind schedule – the new £17.6bn railway across London, to be called the Elizabeth Line, was due to open in December 2018.
But the completion between October 2020 and March 2021 will not include the opening of Bond Street, one of 10 new stations along this new line.
Crossrail said it still needs to finish installing equipment in tunnels, test communications, test station systems and trial run the trains over many thousands of miles on the completed railway.
Three emergency cash injections have already seen the cost of the project rocket from £14.8bn to £17.6bn.
Crossrail is not the only project which is behind schedule. Last May TfL was given the green light to build the Silvertown tunnel – under the Thames in east London to reduce congestion at the Blackwall Tunnel, which was expected to open in 2023, but TfL now admits the earliest would be 2024.
And the Northern Line extension to Battersea was scheduled to open next year, but is now likely to be in September 2021.