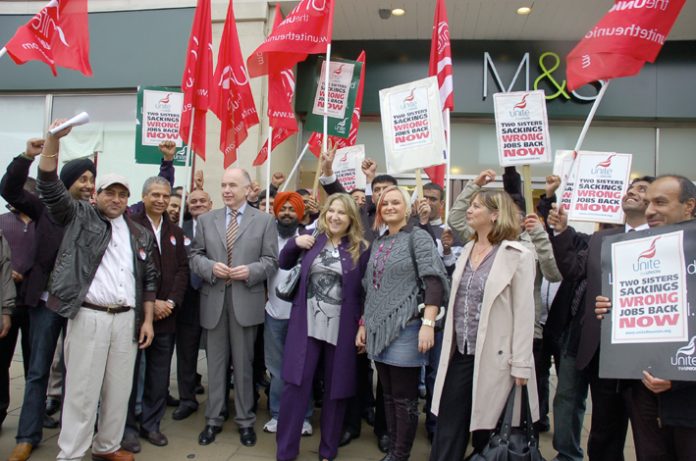 FIFTY-NINE sacked workers from the 2 Sisters poultry processing factory in Birmingham travelled to London yesterday, determined to win their jobs back.
They demonstrated outside the Marks and Spencer store in Marble Arch and delivered a letter to M&S boss, Rose, demanding he intervene and 'pressure' the supplier to reinstate them.
Raj Paul said: 'We were sacked on 2nd September, 59 of us. I've worked there for eight years, some of us have worked 13 or 15 years. We all want our jobs back. Our shop steward was racially abused. They sacked us and brought 50 new people in.'
Unite Assistant General Secretary Jack Dromey said: 'We have to win the jobs back of 59 workers sacked following racial abuse.
'Zahib was racially abused – called a paki bastard – he was disciplined, but no action was taken against the security guard.
'If it is wrong to call someone a paki bastard on the dance floor it is doubly wrong to do it on the shop floor. We will win the jobs back of these 59 workers.'
Sacked worker Saqab Jabid said: 'When one of our colleagues was racially abused we decided to make a complaint inside the office, then, when the company didn't do anything about it we went outside to protest against this matter. We were then sent home suspended and we were sacked by letter two weeks later.
'We've been picketing the workplace every day. Most of the workers inside have signed the petition demanding our jobs back.'
Zohib Javid said: 'I was on the morning shift. Two of us shop stewards told a security guard to open the gates because of chaos when so many people from afternoon shift were coming in at the same time as the morning shift was coming out.
'First of all he said "fuck off" to my mate. Then I said why are you swearing and he said to me "fuck off you paki bastard".
'When I told the HR department I was given a warning for reporting it and the security guard was not even spoken to.
'After that the workforce demonstrated, five shop stewards were first of all suspended, then everyone was sacked.
'What's behind this, the main reason they've done this, is that they want to get rid of the union to bring in worse terms and conditions. They want people working on £2 an hour.'