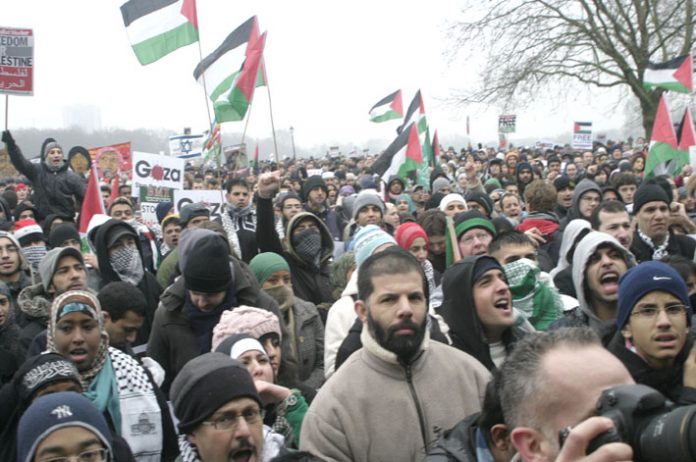 The leader of Hamas in the Gaza Strip vowed on Monday that the Palestinian resistance, backed by the population, would emerge victorious over Israel's offensive.
'We are approaching victory,' Ismail Haniya, the prime minister of the Hamas government in Gaza, said in his broadcast from an undisclosed location.
'I tell you that after 17 days of this foolish war, Gaza has not been broken and Gaza will not fall.'
Haniya also said the 'blood of children' who have been killed in the conflict would serve as a 'curse which will come back to haunt' US President George W Bush, as well as the leaders of Israel.
Bush has consistently backed the Israeli military in words and deeds.
Haniya said that Hamas was ready to 'examine in a positive manner, any initiative which can put an end to this aggression and the blood of our children being shed.'
Hamas representatives are currently in Cairo to discuss an Egyptian initiative which calls for an immediate ceasefire and talks on opening Gaza's border crossings and taking steps to prevent arms smuggling.
Haniya said any initiative must insist on 'an immediate halt to aggression, the withdrawal of the Zionist forces from the Gaza Strip and the reopening of the border crossings and a total lifting of the siege' of the territory.
Medics said at least another 26 people had been killed by the Israeli military, bringing the overall toll to 918, including 277 children. Another 4,100 have been wounded.
Ten Israeli soldiers and three civilians have been killed in combat or by rocket attacks since the operation began on December 27.
An Israeli army spokesman said that close to 30 missiles had been launched from Gaza on Monday, although there were no reports of casualties.
A military spokesman said warplanes had hit more than 60 targets during the day.
Israeli officials on Sunday suggested what is now Israel's deadliest onslaught against Gaza could be approaching its end.
UN chief Ban Ki-moon, who is to head to the Middle East later this week, called on Israel and Hamas to immediately stop the fighting, saying 'too many people have died'.
'We have a Security Council resolution demanding an immediate and enduring ceasefire. This resolution must be observed.'
Meanwhile Israel suffered another humiliating reverse at the hands of the United Nations, when the world body's Human Rights Council adopted a resolution accusing it of 'grave' human rights violations against Palestinians.
Attention was also focusing on the task of rebuilding Gaza after the war, with the Czech Republic, which currently holds the revolving EU presidency, saying it would convene a donor conference to address humanitarian needs.
Aid deliveries have been massively disrupted by Israel, with agencies warning that Palestinian residents are running out of food and even having to burn their furniture to stay warm in the bitterly cold nights.
It has emerged that at least ten Israeli soldiers have opted for prison terms rather than going through with their deployment.
The refusals would be the first of their kind since Israel launched its massive air, sea and ground assault on the Gaza Strip,
On 'conscience's grounds,' the soldiers refused orders to head to the Gaza Strip, they said.
Preferring a 14-day prison stint, at least ten are awaiting trial for violations of orders. One said he simply could not go through with the deployment.
No'em Levna, a first lieutenant, said: 'We killed 900 Palestinians in 17 days, including hundreds of children.
'If violence must be used, it should be used minimally, and that isn't what's happening.
'Killing innocent civilians cannot be justified. Nothing justifies this kind of killing. It's devilish.
'It is Israeli arrogance based on logic. It's saying, "if we hit more, everything will be okay".
'But the hatred and anger we are planting in Gaza will rebound on us.'
Meanwhile, the officer investigated for the death of 13-year-old Iman Al-Hams in 2004 will return to Rafah with the Golani unit. He is now a higher ranking officer with a combat group.
According to the Israeli Hebrew daily newspaper Maariv, the soldier, who remained anonymous to the media throughout his trial, is one of the many reservists who volunteered to go into Gaza and help the Israeli forces attack Palestinians.
In 2004 the soldier was accused by his comrades of using an automatic weapon at close range on a wounded 13-year-old girl.
The young Gazan was injured by the soldiers near the Rafah border in 2004; they claimed that it appeared she was planting a bomb.
When Iman was wounded the unidentified soldier moved closer to her and shot her with an automatic weapon.
The soldier was investigated but never found guilty of the crime, despite eyewitness testimony.
According to Maariv he finished his mandatory military duty, went to university and then re-joined the army when he completed his degree.
The story calls him a good officer with expertise that will be useful during combat in Gaza.
Three Israeli soldiers were reported injured overnight on Monday near the illegal Israeli settlement of Kiryat Arba in the West Bank city of Hebron.
The military said it believed the shots came from the Jabal Johar area.
There was a large increase in the number of troops in the West Bank since the Israeli attacks on Gaza began 18 days ago.
While there have been dozens of demonstrations and clashes between youth and patrolling Israeli forces, there has only been one recorded attack on Israeli settlers in the West Bank since 27 December.
• US Secretary of State Condoleezza Rice was left shame-faced after President George W Bush ordered her to abstain in the UN vote on the Gaza war, Israeli Prime Minister Ehud Olmert said on Monday.
'She was left shamed. A resolution that she prepared and arranged, and in the end she did not vote in favour,' Olmert said in a speech in the southern town of Ashkelon.
The UN Security Council passed the resolution last Thursday, calling for an immediate ceasefire in the three-week-old conflict in the Gaza Strip and an Israeli withdrawal from Gaza where hundreds have been killed.
Fourteen of the council's 15 members voted in favour of the resolution.
The United States, Israel's main ally, had initially been expected to vote in line with the other 14, but Rice later became the sole abstention.
'In the night between Thursday and Friday, when the secretary of state wanted to lead the vote on a ceasefire at the Security Council, we did not want her to vote in favour,' Olmert said.
'I said "get me President Bush on the phone". They said he was in the middle of giving a speech in Philadelphia. I said I didn't care. "I need to talk to him now". He got off the podium and spoke to me.
'I told him the United States could not vote in favour. It cannot vote in favour of such a resolution. He immediately called the secretary of state and told her not to vote in favour.'
But a US State Department official, speaking on the condition of anonymity, denied Olmert's claim.
'Mr Olmert is wrong,' the official said.
Even if everything had gone according to plan, 'she would have abstained. That was the plan,' said the official. 'The government of Israel does not make US policy.'