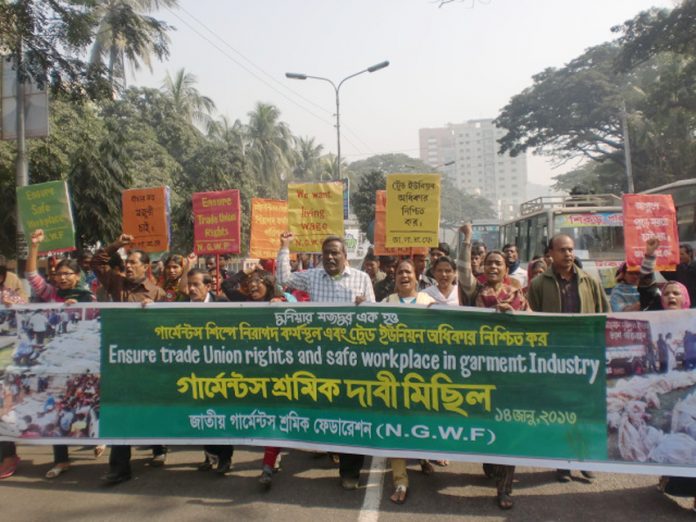 THE President of the Bangladeshi National Garment Workers Federation (NGWF) on Saturday warned eight leading UK retailers that there could be a repeat of this year's Rana Plaza tragedy if they refuse to sign up to an international accord designed to protect Bangladeshi factory workers.
Amirul Haque Amin, who is in the UK to speak at the TUC's annual conference, says several high street names are still refusing to commit to the agreement that will make building inspections compulsory at Bangladeshi factories that supply fashion goods to UK stores.
These brands include Matalan, River Island, Sports Direct/Republic, Jane Norman, Peacocks, Bench, Mexx and Bank Fashion.
The TUC is asking consumers touched by the Dhaka tragedy to use social media to build pressure on the UK clothing brands that are refusing to sign up.
The e-action at http://action.goingtowork.org.uk/bangladeshaccord allows consumers to write directly to the companies and tell them to support strengthening health and safety protection for Bangladeshi textile workers.
The IndustriALL agreement – which has been signed by over 80 international companies including Zara, H&M and Next – commits firms to meeting the cost of making buildings safe, and to working with a monitoring group made up of companies and unions, and chaired by the International Labour Organisation.
In addition, an independent safety inspector will be appointed to oversee all inspections in Bangladesh and to investigate complaints by workers.
In the days leading up to the Rana Plaza factory collapse in April, which claimed over 1,000 lives, staff complaints about large cracks were ignored by managers who ordered the factory stay open.
NGWF president Amirul Haque Amin said: 'I am very disappointed that several leading UK retailers are still refusing to commit to this accord.
'This historic agreement ensures that thousands of factories will have compulsory building inspections for the first time ever.
'Voluntary initiatives have failed to protect workers in the past and if companies in the UK refuse to sign we risk a repeat of the Rana Plaza tragedy.
'It is essential that companies take more responsibility for the way in which their suppliers treat their employees.'
TUC General Secretary Frances O'Grady said: 'Rana Plaza was an entirely preventable disaster and leading names on the UK high street must not be allowed to shirk their responsibilities.
'The health and safety of workers in their overseas supply chains should be their top priority, and not a secondary concern to profits.
'The collapse in Dhaka highlighted once again why we need strong unions and what happens when workers don't have a voice at work.
'It is essential we keep up the pressure on those retailers refusing to sign the accord. Consumers can play a big role by writing to these companies.'
Amiral Haque Amir was due to address TUC delegates on Sunday evening.
He will also be speaking at a TUC fringe meeting at 12.45pm on Tuesday.
'Building Safety and Employment Rights in the Bangladesh Textile Industry' takes place in the Branksome Suite at the Bournemouth International Centre.
The IndustriALL global union represents 50 million workers in 140 countries in the mining, energy and manufacturing sectors.
• IndustriALL said it is working hard to get brands and retailers that sourced from Tazreen and Rana Plaza to participate in talks in Geneva on 11 and 12 September.
The meetings will seek to achieve proper compensation payments to the victims and survivors of the two industrial accidents.
The meetings will be hosted and neutrally chaired by the International Labour Organisation (ILO) and the message to brands from IndustriALL will be clear.
IndustriALL Assistant General Secretary Monika Kemperle stated: 'The families and the injured have already waited far too long.
'Companies who are serious about conditions in their Bangladeshi production chain can send a clear sign of their sincerity at these meetings.'
The Tazreen factory fire killed 112 workers and injured over 120 in November 2012.
Major European retailers C&A, KiK and El Corte Inglés agreed to contribute to a US$5.7 million compensation plan for the victims of the Tazreen fire in a meeting hosted by IndustriALL in April.
Walmart again represents the worst end of the spectrum of different corporate responses to the issue.
Complete indifference to the process has been shown so far from the large American retailer. Walmart products were made by 40 per cent of the Tazreen product lines.
Full details of which brands and retailers participate will be released at the time of the meetings.
The compensation plan was developed by IndustriALL and its affiliates in Bangladesh following the Spectrum factory collapse in 2005.
The model is supported by international labour rights groups and is the industry's best practice compensation mechanism.
The model was used after the December 2010 fire at That's It Sportswear, a factory producing for Gap and other US brands, and the fire this January at Smart Export Garments, which was producing clothes for Inditex and others.
The formula sets out clear guidelines for payment to families of dead and injured workers and takes into account loss of earnings, pain and suffering, and also medical costs, funeral costs and other important family expenses.
The estimated long-term compensation for Rana Plaza will be more than 54 million euros (71 million USD).
The work around the compensation issue is not part of the Bangladesh Accord on Fire and Building Safety. But the strong spirit of cooperation built by the Accord feeds into the process.