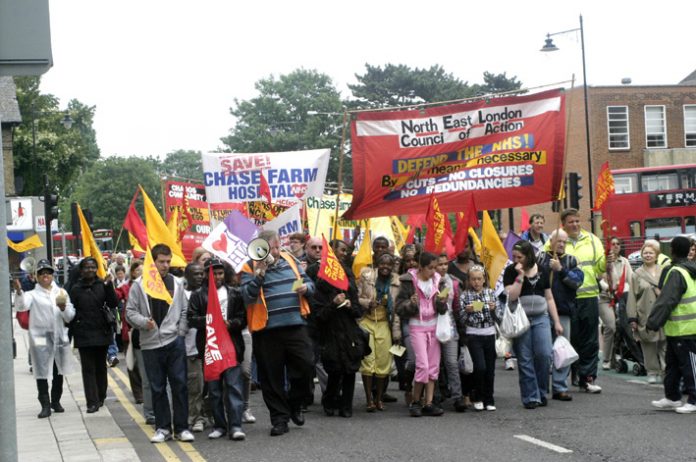 WHITTINGTON Hospital is threatened with being reduced to a 'local hospital' through having its Accident and Emergency and other vital Departments closed, and closed through a 'merger' with the Royal Free Hospital.
In an 'Adjournment Debate' in the House of Commons on Wednesday 2nd December, Jeremy Corbyn (Islington, North) (Lab) spoke up in defence of the Whittington, and was supported by a number of North London Labour MPs.
He said of the Whittington: 'It treats a large number of patients, serving roughly 250,000 people in the boroughs of Islington and Haringey and in parts of Camden and Barnet.
'It has been the beneficiary of a very large amount of investment over the past few years, with £30 million being invested in a new wing. That wing is now open and is very successful.
'It is very well run and of a very high standard, and the hospital has been free from MRSA for a very long time.
'It is a successful hospital of which we can all be proud, and that is the message that we want to get across.
'The hospital employs 2,000 staff and has 400 beds. Last year, it treated 20,000 in-patients, 16,000 day cases and 233,000 out-patients.
'It delivered 3,683 babies and, crucially, it treated 80,000 people in its accident and emergency department.
'It also has a very successful and well run maternity and labour unit.
'The hospital has a neonatal intensive care unit, and we are rightly proud of its new A&E department, which deals particularly with children. This is a hospital that serves its local community and we want it to continue to do so. That is the point of tonight's debate.
'The health service is undergoing one of its sporadic bouts of internal planning and reconfiguration, which is where the concerns come from. . .
'The concerns arose on 19 November, when a story appeared in the local paper, the Islington Gazette, that "in a massive reorganisation of London's NHS, every hospital in the boroughs of Islington, Camden, Haringey, Enfield and Barnet will be categorised either as a 'local', 'major acute' or 'specialist'. The Whittington will almost definitely be downgraded to a 'local' hospital."
'An internal letter then also appeared from NHS Islington, which seemed to say that there was a question mark over the future of the hospital's A&E department and the intensive care unit.
'I believe that some of my parliamentary colleagues intend to refer to that when they speak a little later in this short but very important debate.
'Since the story came out, I have had numerous contacts with the hospital.
'I have spoken at some length with the primary care trust for Islington, which is also involved in the commissioning authority for the north central area.
'The more discussions I have with more people, the more concerned and alarmed I become. I also discovered during those discussions that a company called Participate has been retained by the NHS to undertake a consultation exercise, which, unfortunately, has so far taken place as an internal private focus group of some sort, as I understand it.
'I certainly was not invited to attend it.
'I have checked with the local authority and parliamentary neighbours, and I am not quite sure who was invited, but it certainly was not any of us.
'That has caused understandable concern. . .'
Frank Dobson (Holborn and St. Pancras) (Lab) said: 'I am sure my hon. Friend would agree that all the investment in the Whittington has been intended to upgrade it.
'What appears to be proposed now is to downgrade it.
'In relation to the threat to the 80,000 accident and emergency patients, will he confirm that the alternatives are the Royal Free, which has 80,000 accident and emergency patients, and University College hospital in my constituency, which has 130,000 accident and emergency patients and is already saying that the number of emergency cases is leading to delays in elective surgery, so as far as that hospital is concerned, it is getting too many emergency cases already, but if the Whittington A&E department closes, it will clearly get many more?'
Jeremy Corbyn: 'My right hon. Friend is right: 80,000 patients are treated there. . .
'I conclude by quoting Dr. Wendy Savage, a leading gynaecologist and co-chair of Keep Our NHS Public, who said: "We are gravely concerned about the implications of these changes".
'She said that they would "involve the loss of key services, including emergency surgery, paediatrics and maternity" if the full A&E services were lost.
'The consultations make me suspicious. If there are plans to close the Whittington A&E, come out with it in the open and let the public express their views.
'Do not allow the whole thing to be built up as some kind of financial case which becomes unanswerable, with the result that we lose those facilities.
'I am determined to defend my local hospital. We are all determined to defend our local hospital.
'I hope the Minister will understand the passion that is felt about that locally and that he will be able to say tonight that he is prepared to put pressure on to ensure that we keep that A&E and the hospital, and that the people of that very crowded part of London can rely on the NHS to provide them with the emergency services and all the other services that they need.'
Emily Thornberry (Islington, South and Finsbury) (Lab): 'I had my life saved by the Whittington hospital. I remember arriving at A and E, standing at a desk and weeping on the woman at the desk.
'I had gone yellow, my eyes had gone strange and I was having problems breathing. I had, it seems, gallstones that were messing up my liver and my pancreas.
'If I had left it any longer, I would not be here today. I love the Whittington and there is a strong reason for that.
'If there is any chance that anyone is seriously thinking about closing the Whittington A and E, they will have a fight on their hands, certainly from my hon. Friend and myself and the huge amount of support that we are already garnering in Islington and, I strongly suspect, across other boroughs that use the Whittington.'
Lynne Featherstone (Hornsey and Wood Green) (LD): 'A letter was leaked to me, and that letter was very explicit about all four options for the hospital's future.
'It was sent by Rachel Tyndall from the north central London sector to all the chief executive officers and medical directors of the relevant hospitals, and all four options showed that the Whittington would have no emergency take in future.
'That is how it was. As soon as the letter went public, however, it was retracted – to an extent – and became a proposal for local hospital designation, which would mean a reduction in services.
'There certainly would not be 24-hour care; there certainly would not be emergency care; and the hospital certainly would not retain the intensive therapy units; but there might be urgent care of some sort provided.'
The Minister of State, Department of Health (Mr. Mike O'Brien) then spoke for the government and urged MPs to seek a review of the process.
He said: 'The Government have established an independent scrutiny and review process for local service change as part of their commitment to place patients and the public at the centre of health services.
'If MPs and local councillors have any concerns about proposals coming from their local health services, I urge them to engage directly with primary care trusts, who are responsible for developing any proposals for change.
'I know that there have already been some meetings locally, and PCTs have assured me they would welcome any discussions with MPs.
'However, if there are significant local concerns, then the health and well-being scrutiny committee can refer proposals for any reconfiguration to the Secretary of State for Health, who in turn may decide to refer the case to the Independent Reconfiguration Panel for consideration and independent advice. . .'
Lynne Featherstone interjected: 'With the sort of letters that are going out, the fear is that when the options for consultation finally come forward to the public, which will be in September 2010, there will not be a 24-hour A&E in them and that option will not be on the table for the public to let the authorities know about it.
'That is why we need to hear public voices now, because there may not be any option that says, "Keep the Whittington A&E open".
'The options that will be consulted on will not be the ones that the general public want. . .'
It is good that Labour MPs say that they are going to defend the Whittington hospital.
To convince local people that more is involved than a concern for their seats in the forthcoming general election they must however go beyond words to action.
They must call for the occupation of the Whittington hospital by staff and local residents to stop it being cut and closed.
They must urge the trade unions to take industrial action against the Labour government's hospital closure programme until the threat to cut and close the Whittington and other hospitals are withdrawn.