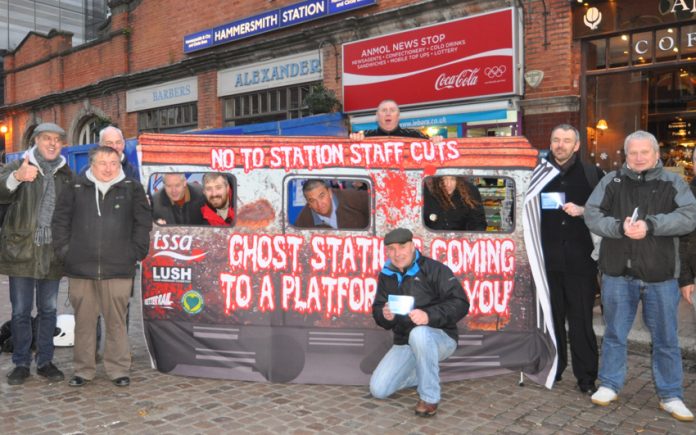 RAIL union RMT has launched a campaign to fight a planned programme of ticket office closures the length and breadth of the Greater Anglia franchise.
The company has informed the union that across the Greater Anglia network they currently have 64 ticket offices with an establishment of 358 ticket office staff.
Greater Anglia, which currently holds the franchise until 2026, have told RMT officials that it is their intention to only have seven remaining traditional ticket offices.
These will be located at London Liverpool Street, Colchester, Norwich, Cambridge, Chelmsford, Ipswich and Stansted Airport. That means that the company are proposing to close the bulk of the remainder of their station-based services during the next year in three stages, with seven ticket offices to close by this summer.
Greater Anglia have also revealed that they intend to introduce revenue staff and place ticket vending machines (TVMs) at all stations with major implications for jobs and services.
RMT's National Executive Committee has considered this matter and has reiterated the union's position on being completely opposed to any closures or reduction in opening hours of ticket offices, to any cuts in station staff jobs and the potential introduction of lone working at stations.
As a result RMT is planning a campaign of opposition designed at engaging the public, passenger groups and campaign groups and politicians right across the area in an all-out drive to halt the ticket office massacre.
RMT General Secretary Mick Cash said: 'The union is appalled at this planned attack on ticket offices and station staff across the Greater Anglia franchise which would wipe out the vast bulk of these vital passenger services over the next year.
'The union will fight with every tool at our disposal to halt these disastrous plans which are all about cutting public services to pump up private profits. This is all part and parcel of a national drive to de-staff our trains and stations as the private train companies look to smuggle in a faceless railway in a dash to fatten up their own profit margins.
'RMT is calling on the public and politicians to join with us in a mass campaign to halt this ticket office massacre that would stretch the length and breadth of the Greater Anglia franchise.'
The RMT will also escalate a deepening dispute with London Underground as the union gears up for action from this Sunday involving station staff across the London Bridge group after one member was sacked and two others disciplined for intervening to stop a serious assault by a fare-dodger on fellow staff members including one who was pregnant.
The current RMT action will involve the following; All members at London Bridge to take strike action by not booking on for any shifts commencing 22:00 on Sunday 7th May 2017 until 21:59 on Monday 8th May 2017.
All members at London Bridge to take the following actions short of a strike commencing 22:00hrs on Monday 8th May 2017:
• Not to service any POMs (ticket machines)
• Not to challenge customers who refuse to produce a valid ticket/oyster/bank card or permit for travel.
(This action to run until further notice.)
Now, in the face of an aggressive and intransigent stance adopted by Tube bosses, RMT's executive has voted to escalate the dispute and begin preparations for a ballot of all LU station staff in support of their victimised London Bridge colleagues.
In the incident, which occurred last November, a fare-dodger assaulted two members of staff, including pushing a pregnant colleague in the stomach. One staff member had his glasses stolen and was punched twice. That member of staff has now been sacked in what the union describes as an 'appalling miscarriage of justice'. RMT has slammed LU for bogus and disgraceful claims that the female member of staff wasn't assaulted – despite the fact that they admitted that crucial fact in the disciplinary hearings.
The staff member who initially challenged the fare-dodger to produce a ticket or oyster card was disciplined on the ludicrous, trumped-up charge of 'inciting or provoking an incident'.
A third member of staff, who defused the situation after being repeatedly threatened with violence, has also been disciplined by London Underground when they should have been commended for their bravery.
As a result one member of staff has been sacked with the other two members receiving 52-week final warnings. Cash said: 'Our members are standing up in support of their victimised colleagues at London Bridge and with LU making it absolutely clear they have no interest in the principles of natural justice, we have no option at all but to take this industrial action. We have no doubt that the public will understand that.
'Despite the spin from LU, the facts of this case remain the same. It is about a fare dodger stopped and asked to pay his way who then turns violent and attacks staff doing their job. LU's message to thugs is that you can keep on fiddling your fares and lay into staff with impunity and it will be the front line Tube workers who get the sack. It is outrageous.
'This is one of the most appalling abuses of the LU disciplinary procedure that RMT has ever come across. This was a shocking, violent incident and those that bore the brunt of it should have been supported and commended by the company. Instead, they have been sacked or disciplined in what is the most appalling multiple miscarriage of justice.
'LU have flouted their own zero tolerance policy, their own duty of care to their staff and have sent out a message to fare dodgers and yobbos that staff can be treated as punch bags with impunity. That is an outrage that has enraged every single Tube employee who risks their neck on the stations and platforms against a backdrop of a growing pattern of abuse and violence.
'It is also an insult to the three million Tube users who pay their fares without expecting a free ride. RMT's executive has noted the aggressive and intransigent stance adopted by Tube bosses and has now decided to escalate to a ballot of all station staff.
'London Underground should do the decent thing – reinstate our member, lift the disciplinary action and send out the message that fare-dodging and violence will not be tolerated and that staff in the front line will get the support and assistance that they need.'