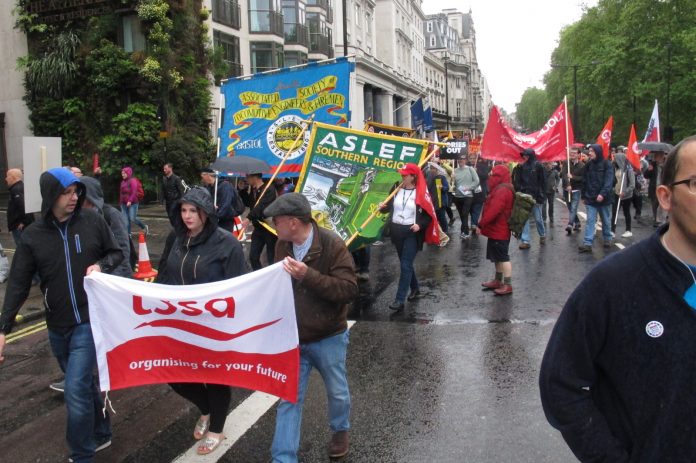 RAILWAY unions TSSA and RMT have demanded renationalisation of railways – and slammed the privateer rail companies – in the wake of valuable research by Which? magazine revealing rail firms' insistence on 'complicated and lengthy compensation claims processes'.
Its straightforward title is: 'How train companies are adding unnecessary hassle to claiming compensation', and it summarises the problem as follows: 'Complicated, lengthy and seemingly irrelevant … passengers asked to provide a raft of details to claim money back for delayed or cancelled train services.'
TSSA General Secretary, Manuel Cortes, said: 'On top of suffering the worst punctuality and reliability since Scotland's railways were privatised, now ScotRail passengers have to navigate a Byzantine claims process and provide 24 pieces of information in order to claim compensation for the delays!'
He warned: 'This is pure cynical greed. Abellio know that the harder it is for passengers to claim a refund the more likely they are to give up on the process.
'"Profits before passengers" is always the bottom line in any franchise system. This is just another reason why Scotland urgently needs its railways back in the public sector.'
At the RMT press office General Secretary Mick Cash also added: 'No one who uses our privatised railways will be surprised that the greedy train companies are still abusing the compensation system to rip-off the travelling public.
'Even worse, the private operators are claiming a fortune from the taxpayer in compo from the publicly owned Network Rail which they are failing to pass on to the passenger.'
Cash insisted: 'It's a racket and only public ownership of the entire rail network will end it.'
The Which? report, written by Oliver McKean, summarised and revealed: 'How train companies are adding unnecessary hassle to claiming compensation.
'Complicated, lengthy and seemingly irrelevant … passengers asked to provide a raft of details to claim money back for delayed or cancelled train services.'
It continued: 'Train companies are making it very difficult for passengers to get compensation by demanding up to 24 pieces of information during the claim process, according to new research from Which?.
'We looked at the online claims forms of 24 train companies and found they required between 10 and 24 bits of information from passengers seeking compensation for delayed or cancelled journeys.
'We want to see rail compensation simplified by the introduction of automatic compensation.
'Passengers claim compensation for delays and cancellations in only a third of cases. According to our annual rail passenger survey, a third of journeys weren't claimed for because it was too much effort and for one in seven, it would be too difficult or time consuming.
'
How to claim compensation for train delays and cancellations. Which train companies demand the most information?
'Greater Anglia, London Northwestern, ScotRail, Transport for Wales and West Midlands were the worst offenders for their complicated and lengthy claims processes, each demanding 24 pieces of information.
'But even the best-performing companies in this list – Chiltern Railways and Heathrow Express – asked for 10 different pieces of information before passengers could submit a claim.
'Our analysis revealed that the five worst companies required 13 different pieces of information about the passenger's ticket, such as whether it was a paper ticket, the cost, class, whether it was peak time, the dates of validity and how it was paid for.
'Yet most of this information can be found clearly displayed on a photo of the paper ticket, which 23 out of the 24 train companies require to be uploaded as proof of purchase.
'As many as 14 out of 24 train companies also asked passengers to dig out even more detailed ticket information, such as the ticket reference number.
'By contrast, Chiltern Railways only required two pieces of information about a ticket from passengers – the ticket type and proof of purchase.
'Six of the train companies also asked people to provide the 'from and to' journey details more than once on the same form, forcing them to input the details of the journey twice.
'Half of train companies asked passengers why they were making a claim or the reason for the delay – the latter being information the train company was better placed to answer and should have already known.
'When we asked train companies why they asked for so much information, responses included deterring fraudulent claims, that it was needed for paper tickets without reservations, and the prominence of third party retailers.
'Some also said that customers could set up an online account with them and store their personal details to make claims easier second time round.'
'
Which? calls for automatic compensation.
'We're concerned people have to navigate such a complex compensation system, which may deter some passengers from claiming the money they're entitled to.
'Some train companies – C2C, Northern, South Western Railway and Virgin Trains – are already offering automatic compensation to customers with smart tickets or ones bought on company apps, meaning passengers are automatically refunded without tedious form filling.'
Alex Hayman, Which? managing director of public markets, commented: 'It's clear this fragmented and confusing compensation system leads to people losing out on a lot of money when they have already suffered enough from unacceptable levels of delays and cancellation.
'The technology exists to deliver compensation automatically, but the industry continues to drag its heels, while benefiting from a system that deters passengers from claiming the money they are owed.
'Passengers want to see swift changes, so the government's rail review must prove it is serious about putting them first by ensuring that automatic compensation is introduced across the network.
'Sign our "train pain campaign" to add your weight to our calls, and help us make change.
'
'During February and March 2019, we reviewed the online delay-repay process for 24 different train operating companies. We looked at how many pieces of information (for example, name, address etc …) someone was required to submit to make a delay-repay claim.
'To ensure consistency, we used the example of someone who had purchased a paper ticket (not an online ticket), made a direct journey (no connections) and used the website delay-repay form, not a smartphone app.'
Rail price protesters demanding that the fair prices are lowered and that the railways are renationalised