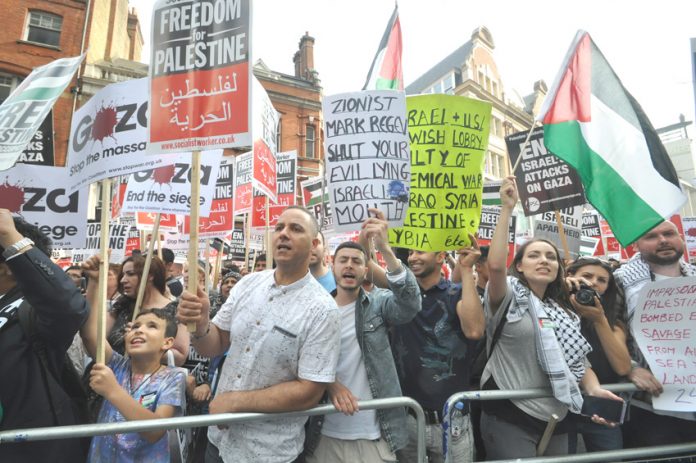 THE Palestine Liberation Organisation (PLO) said Israeli Prime Minister Binyamin Netanyahu blatantly manipulated the facts when he compared Hamas with the Islamic State group in a UN speech on Monday.
'Netanyahu's speech at the UN was a blatant manipulation of facts and attempted at misleading the audience through a combination of hate language, slander, and argument of obfuscation,' PLO executive member Hanan Ashrawi said in a statement.
'Obviously Netanyahu has lost touch with reality, particularly in refusing to acknowledge the fact of the occupation itself or the actions of the Israeli army of occupation in committing massacres and war crimes,' she added.
Addressing the United Nations General Assembly earlier, Netanyahu denied accusations of Israeli war crimes during its July-August offensive on the Gaza Strip that killed 2,140 Palestinians, mostly civilians, and left the enclave in ruins.
He instead said that Palestinian president Mahmoud Abbas was jointly culpable with Hamas, which fired thousands of rockets into Israel, bringing retaliatory Israeli airstrikes down on Gaza residents.
'Hamas embedded its missile batteries in residential areas and told Palestinians to ignore Israel's warnings to leave,' Netanyahu said.
'I say to President Abbas, these are the war crimes committed by your Hamas partners in the national unity government which you head and you are responsible for,' he said.
The Islamic State and Hamas, Netanyahu added, 'share a fanatical creed, which they both seek to impose well beyond the territory under their control'.
In Gaza, Hamas spokesman Sami Abu Zuhri said Netanyahu was 'portraying Hamas and IS as two faces of the same coin' although 'Hamas is a national liberation movement, while the (Israeli) occupier is the source of evil and terrorism in the world.'
'Israel's terrorism is a coin with one face only,' Abu Zuhri said.
He also rejected claims that Hamas used civilians as human shields, saying they were completely baseless and an attempt to justify Israeli forces' killing of more than 500 Palestinian children during the offensive.
In his own address to the General Assembly last Friday, Abbas vowed to seek war crimes prosecutions against Israel over the 50-day conflict in Gaza, which he called a 'war of genocide.'
Netanyahu hit back on Monday with a jibe at Abbas's 1980 doctoral thesis in which he questioned whether six million Jews were really killed in the Holocaust.
'In what moral universe does genocide include warning the enemy's civilian population to get out of harm's way?' he asked.
'I suppose it's the same moral universe where a man who wrote a dissertation of lies about the Holocaust, and who insists on a Palestine free of Jews … can stand at this podium and shamelessly accuse Israel of genocide and ethnic cleansing,' he said.
In his address last week to the 193-nation Assembly, Abbas asserted that years of peace negotiations had failed, stressing that Israel was forging ahead with settlements and maintaining a blockade of Gaza despite formal pledges of peace.
The latest round of Israeli-Palestinian talks, fostered by US Secretary of State John Kerry, were sabotarged by Israel's continued settlement programme and led to over 50 day of military onslaught in which over 2,000 palestinians died.
Meanwhile The Popular Front for the Liberation of Palestine (PFLP) said on Monday that it 'strongly supports' President Mahmoud Abbas' decision to submit a resolution to the UN Security Council to end the Israeli occupation.
In a statement, the group also gave a positive assessment of Abbas' speech before the UN General Assembly, in which the President called Israel's recent assault on Gaza 'genocidal' and likened Israel's policies toward Palestinians to apartheid.
The PFLP supports the idea of Palestine joining more international organisations, especially the International Criminal Court, the statement said.
Abbas has said in recent days that he will submit a resolution to the UN Security Council to end the Israeli occupation of the West Bank within three years.
A senior Fatah official said on Sunday that Abbas was prepared wage 'political war' on Israel if the US vetoed the UN resolution as expected.
He said Abbas would call for an international boycott of Israel and submit applications to international organisations if the resolution was vetoed.
• Local organisations have donated 100 mobile homes to Palestinians displaced by Israel's military offensive on the besieged Gaza Strip.
The homes, which were built locally and funded by charitable organisations, were donated to families in the Khuzaa neighborhood in Khan Younis.
Suad Najjar, who lost her home, said that the mobile homes were not big enough to accommodate her family and worries that they could replace the rebuilding of her home.
'The mobile home fits only five. It is not enough for all my children, where would they live?' she said.
The mobile homes are the size of one room in her destroyed house, she said, adding that the properties should not become a permanent solution for those displaced.
'Where do we go if we do not rebuild our houses, to the sea? I will set up a tent next to my destroyed house and will cover it with plastic for the winter if I have to.'
Khalil Najjar, another man displaced by Israel's war, said the mobile homes are not appropriate for winter and says his eight-member family is currently homeless.
A local charity worker, Imad al-Haddad, said that the mobile homes are temporary and the most essential step now is to allow construction material to enter Gaza.
Local charities were only able to construct 100 mobile homes due to a shortage in materials, he added. The July-August Israeli operation in Gaza killed at least 2,100 Palestinians, and the UN said it made some 100,000 people homeless in the long term.
The cost for full reconstruction of homes and infrastructure destroyed during the war is estimated at $7.8 billion by the Ramallah-based Palestinian Economic Council for Development and Reconstruction.
• Israeli settlers early on Tuesday occupied 23 houses in the Palestinian neighborhood of Silwan south of the Old City of Jerusalem, a local information centre said.
Wadi Hilweh Information Centre said in a statement that 'settlers of the Elad (Ir David) Association' stormed Silwan at 1.30am escorted by Israeli soldiers and forcibly evicted the residents of an apartment and occupied it, in addition to several vacant homes.
The houses belong to the Baydoun, al-Karaki, Abu Sbeih, al-Zawahra, al-Abbasi, al-Khayyat, Qarain and al-Yamani families, the statement said.
The Wadi Hilweh Centre called the act an 'unprecedented settlement attack.'
'Even if the houses have been bought stealthily, this is still an illegal seizure of Arab houses by the Elad settlement association.'
East Jerusalem is internationally recognised as Palestinian territory, but Israel occupied it in 1967 and later annexed it in a move never considered legitimate abroad.
More than 500,000 Israeli settlers live in settlements across the West Bank, including East Jerusalem, in contravention of international law.