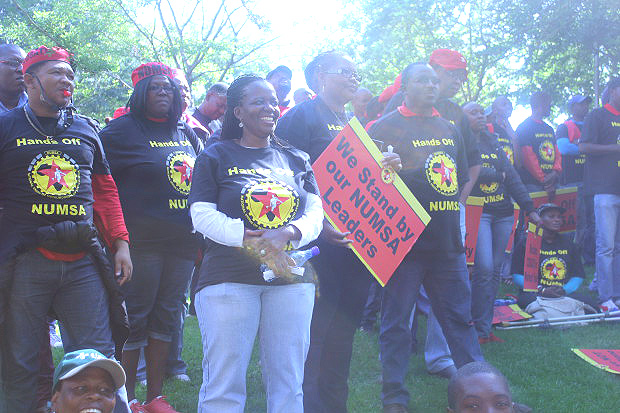 NUMSA National Executive Committee has issued a full statement on COSATU in response to calls for its expulsion from the federation.
The National Union of Metalworkers SA (NUMSA) hit back at its potential expulsion from COSATU accusing the federation of betraying its roots and defended its decision to organise in different sectors, set up a United Front for socialism, as well as withdrawing support from the ANC.
The statement opens: 'When COSATU was born in 1985, the federation brought together many different trade unions with different organisational, political and administrative cultures and traditions.
'From 1981, it took four long hard years to emerge from the unity talks with the establishment of the largest federation in South Africa in December 1985.
'The COSATU we formed, over its 29 years of existence, has grown and been united, by the following values:
'1. COSATU is an independent, fearless and democratic trade union federation: it confronted the Apartheid regime and survived! COSATU is shaped and had existed premised on the following key and core values:
'• COSATU is a revolutionary socialist federation.
'• COSATU is an anti-imperialist federation: it fights against foreign capitalist domination.
'• COSATU rejects all forms of cultural, male chauvinist and racist prejudices and discrimination.
'• COSATU is a militant federation.
'• COSATU is a transformative federation.
'• COSATU is a champion of working class democracy.
'• COSATU believes in working class power, and advocates worker control not only of the progressive trade union movement, but of society as well.
'l COSATU believes in the revolutionary power and unity of the working class which is why it champions the formation of one union in one industry and one federation in one country.
'2. The crisis in COSATU comes about as a result of the class struggle between those inside and outside COSATU, who would like to dilute and destroy the traditional values of COSATU as set out above, and those who want COSATU to retain all these values, i.e. an independent, militant, revolutionary, socialist oriented, anti-imperialist, worker-controlled and democratic organisation.'
Addressing media on Monday in its Johannesburg headquarters, NUMSA responded point by point to criticism levelled at the union last week during a COSATU central executive committee meeting, where the union narrowly avoided a vote on whether it should be expelled for transgressing COSATU's core principles.
During the meeting, an ANC task team, led by Deputy President Cyril Ramaphosa and appointed to investigate divisions within the federation, presented a report that criticised NUMSA for transgressing COSATU's 'one industry, one union' rule. The ANC acknowledged the deep divisions within the federation and advised COSATU to discuss its problems instead of looking to a special national congress to elect new leadership.
NUMSA defended its decision to organise in other sectors. It said 'virtually all COSATU affiliates at some factory, industry or sectoral level do organise across industries and therefore stray into other affiliates areas'.
Unions have made constitutional amendments to expand their scope but 'it has never been the basis for either admission into COSATU or cause for dismissal, should a union, once affiliated, flout this principle', said NUMSA.
'Why then this extreme and negative fixation on NUMSA's extension of scope and resolution to organise along value chains, when this has been going on in COSATU for all of its 29 years? The reason is not difficult to find: the forces of darkness and capitalism who are very terrified of the organised socialist power of the working class are fishing for any possible constitutionally justifiable cause to expel NUMSA from COSATU.'
Meanwhile, in their statement, NUMSA described the abandonment of socialism in the post-apartheid period saying:
'The negotiated settlement and the post-1994 period have seen the abandonment of the Freedom Charter (FC) and the Reconstruction and Development Programme (RDP) and their replacement with the Growth, Employment And Redistribution (GEAR) neoliberal macroeconomic framework.
'We have seen, from 1994 onwards, the adoption of right-wing neoliberal capitalist social and economic policies in defence of South African white monopoly capital and imperialism.
'Combined, all these have made it impossible to undo our colonial economy and society, which the SACP in 1962 characterised as Colonialism of a Special Type – a situation in which the coloniser and colonised live side by side, in the same geographical space.
'The negotiated settlement and the neoliberal capitalist policies have entrenched the social and economic dominance of white monopoly capital and imperialism, in post 1994 South Africa.
'In 2012, in the ANC Mangaung Conference, despite twenty years of evidence of the disastrous failures of GEAR, the ANC revised and renamed GEAR and adopted it, now as the neoliberal National Development Plan (NDP).
'There is no doubt that the world is experiencing the most severe crisis of capitalism.'
NUMSA accuses the ANC and SACP of turning their backs on the working class:
'Internally in the ANC, doors are closed to any possibility for a radical transition, as undemocratic practices have become the order of the day, whenever radical policies are demanded by the working class.
'As for the SACP, more especially after 2009, it has effectively abandoned its vanguard role, and lost any claims to be leader of the struggle for socialism in South Africa.'
The statement continues: 'In December this year, 2014, we are launching the United Front.
'To better service our members, to defend and grow our union, we adopted a Service Charter for ourselves.'
'In the last six congresses of COSATU, going back to 1997, COSATU has clearly resolved to set up a United Front: COSATU called it "a broad popular movement for transformation around common struggles on issues facing the working class".
'NUMSA is today merely doing what COSATU has desired to do all this time!'
NUMSA's statement slams the attempt to drive General Secretary Vavi out of cosatu saying: 'Those who want Zwelinzima Vavi out of COSATU want a COSATU which will be a "toy telephone", a "labour desk", a pro-capitalist COSATU and those who are defending Comrade Vavi want a revolutionary socialist, anti-colonialist and anti-imperialist COSATU.
'Clearly, Comrade Zwelinzima Vavi is seen as a threat to the ambitions of the right-wing capitalist forces within and outside the former liberation movement, which see a COSATU under his leadership as obstructing their capitalist ambitions.'
The statement continues with an analysis of living conditions in South Africa today saying: 'In NUMSA we have been in the trenches with the rest of the liberation movement, the ANC-led alliance, the SACP, SANCO and others, for 27 long and hard years, twenty of those during the ANC neoliberal and capitalist rule of South Africa.
'We have suffered millions of job losses as the ANC presided over the dismantling, through its neoliberal and capitalist policies, of the inherited Apartheid manufacturing sectors.
'Privatisation, deregulation, removal of price controls, trade liberalisation, inflation targeting and a cluster of similar neoliberal measures have ensured that the inherited white male dominated manufacturing system of South Africa is dismantled, and in its place, nothing, is established save for massive cheap imports, largely from China and Indonesia.
'In the process, millions of jobs have been destroyed.
'In the meantime, a filthy rich Black and African tiny middle class, now politically represented by Cyril Ramaphosa, has become very vocal and evident, and is now leading the ANC.
'This parasitic black middle class now believes Black Economic Empowerment can and does build a prosperous society!
'Like all parasitic classes in history, it too has substituted itself for South African "society", post-1994.'
The report concludes: 'The NUMSA NEC held on 27th October 2014 demand the immediate convening of a COSATU Special National Congress as the only constitutional structure of COSATU capable of taking the federation out of its paralysing crisis.
'We will place before the National Office Bearers (NOB) the demand that from now on, no COSATU CEC or any activity must be executed unless it is in furtherance of holding the Special National Congress.
'We will demand that it is irrational, against all known rules of justice, for NOBs structure to preside on any event, constitutional or otherwise, with the purpose of expelling NUMSA when NUMSA and other unions have successfully petitioned the president of COSATU to hold a Special Congress to resolve the same issues NUMSA is now threatened with suspension or expulsion.
'We will, to that end, immediately reinstate the legal challenge to demand that the current national leadership of COSATU devote their efforts to ensuring that a Special National Congress is held, to resolve all the matters now killing COSATU.
'COSATU meetings going forward must attend to the calls for a Special National Congress and in that regard must attend to date and logistics for the hosting of the Special Congress in or before the end of 2014.
'To achieve our objectives of keeping the 2.2 million members of COSATU affiliates united, militant, socialist revolutionary respecting the time-tested principles of worker control and internal democratic order in our unions, NUMSA will spare no effort to advance the resolution of all NUMSA constitutional structures.'