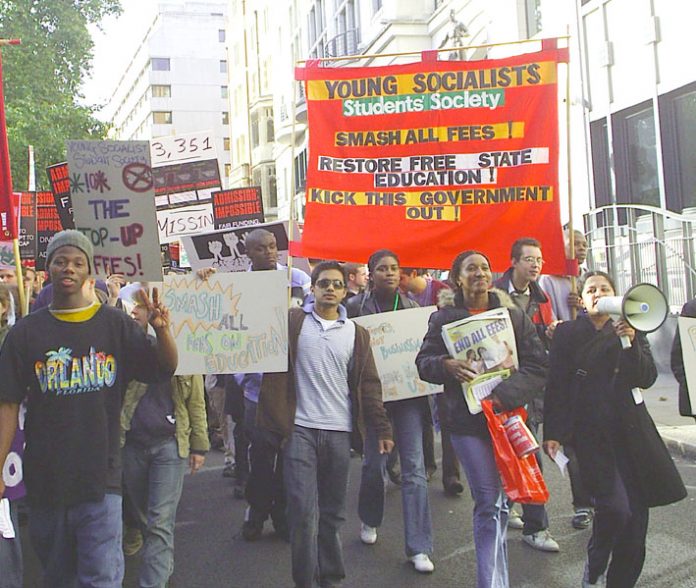 THE National Union of Students (NUS) has expressed alarm at the rapid rise in youth unemployment, warning that the chances of students getting summer work this year are the worst in living memory.
The NUS said that both students and school leavers were being squeezed out of holiday jobs 'because of the downturn'.
'Lack of money could be disastrous for students who are already heavily in debt and rely on summer earnings to finance their studies,' the NUS said.
Already deprived of grants for their living expenses, many students could be forced to drop out of university altogether if they don't find summer work.
The NUS highlighted the situation at Sussex University, just outside the busy seaside town of Brighton, where youth unemployment is already a big problem.
Students just finishing their exams are worried about not having any income for the next three months.
Peter Richmond, a second year theoretical physics student, said: 'It's really difficult to find jobs at the moment.
'I've handed out 20 CVs and I haven't received a reply from any of them.'
Brighton used to be a magnet for students looking for summer work, with plenty of bars and restaurants on the seafront, plus call centres and technology businesses.
But this year, companies have been laying workers off and there are fewer casual jobs.
There are 32,000 students at the two universities in the area.
Students are having to compete with 3,000 extra unemployed people since last summer and 2,400 school leavers who are entering the labour market.
'We are turning a lot of people down. There are just too many applications,' said Jo Clarke from the Due South restaurant in Brighton.
The restaurant advertised for casual workers to help with food stalls at summer festivals and was deluged with applications.
The situation could well get worse, according to Simon Royston, from Brighton's Red Flag recruitment agency.
He warned students who take a break and then start looking for work in a few weeks time that they will be too late.
'If you really want a job this summer you need to get moving quickly,' Royston, remarked.
There were some vacancies on the wall in Sussex University's careers office, for sports camp helpers, language teachers and office workers, along with some unpaid placements.
But most opportunities were snapped up in April and May.
The university's employment liaison manager, Andrea Wall, said: 'Applications need to be sharper; they need to be more relevant and targeted.'
Desperate students in Brighton are trying to make light of the situation.
'We'll be eating beans straight out of the can!' said Carmen Straker, psychology student.
The NUS leadership is pleading with the government and universities to provide more bursaries to help those who end up in financial trouble.
But NUS leaders refuse to call for the return of free university education, with living grants for all and no tuition fees – arguing instead for a 'graduate tax'.
The government, meanwhile, is pressing ahead with the privatisation of education, with plans in the pipeline to raise fees even higher than the current level of more than £3,000 a year for domestic students and more than £10,000 a year for overseas students from outside the EU!
Some university bosses are openly demanding the right to charge whatever fees they like.
The capitulation of the NUS leaders has created a situation where young people are being driven into tens of thousands of pounds of debt for the 'privilege' of studying for a university degree.
The British Medical Association says medical students can now expect to run up debts of £40,000-£50,000 by the time they graduate, warning that young people from lower income families are being priced out of medicine, and that this will damage health care in Britain.
The NUS said: 'Most of the 2.4 million studying at university look for paid work in the summer.'
Students already have to scrimp and save as a matter of course.
At the same time, universities are making massive cuts in staff and courses and even closing whole departments and buildings.
It is time to build a new leadership in the NUS, that fights for the return of free university education and will unite students with lecturers fighting cuts and mobilise the trade unions to defeat privatisation.
This is the kind of leadership that the Young Socialists Students Society (YSSS) is building in the colleges.
All students should join the YSSS today!